This article is more than 1 year old
DARPA, US Marines team on proper flying car project
Blade Runner style sky-buggy Humvee/Jeep/Prius combo
Big news for flying-car lovers today, as US military boffinry chiefs have unveiled full details of their plan to produce an excellent flying Humvee or sky-jeep type vehicle - and have a prototype flying by 2015.
Plans for the so-called "Transformer TX" were revealed in Pentagon budget documents last year, but details were sketchy. Now a full announcement (pdf) has been made, inviting proposals both from companies or organisations capable of designing the entire vehicle and others who would develop enabling technologies.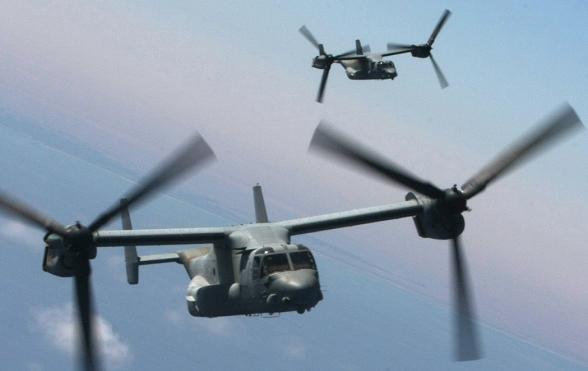 A bit less of this, please
One need hardly add, of course, that the military boffinry shop in question is none other than DARPA: the agency which, just occasionally, produces the technological equivalent of the complete works of Shakespeare - but which also cranks out a hell of a lot of monkey sonnets.
In this case, the federal techno bad boys of DARPA have decided to have a crack at a real, no-shit flying car: and probably not just an ordinary car, but an off-road one to boot. They don't want a light plane that you can drive on a road, like the Terrafugia Transition. They don't want a paramotor, either. According to the Transformer TX announcement issued yesterday:
The Government's envisioned concept consists of a robust ground vehicle that is capable of configuring into a VTOL [Vertical Take Off and Landing] air vehicle with a maximum payload capability of approximately 1,000 lbs.
The sky-jeep should be able to carry four fully-equipped troops, or alternatively one stretcher and one medic. It should be no bigger than 30 feet long by 8.5' wide and 9' high in ground configuration - on the order of two Hummers nose-to-tail - and should have wheels and suspension giving "road performance similar to an SUV" and "capable of handling light off-road travel".
In addition to being a capable ground vehicle, the TX should be able to lift off and land "without forward motion" and thereafter climb at least one unit upward for every six moved forward at sea level, or a minimum of 1:10 at higher altitudes. It should cruise in forward flight mode at speeds "representative of a light single-engine aircraft" and be able to achieve altitudes of 10,000 feet.