MySQL Con The battle to own MySQL is over and Oracle executives are fanning out to woo open sourcers, but MySQL luminaries have mobilized to win the hearts and minds of DBAs and developers.
MySQL father Michael - Monty - Widenius and leading MySQL architect Brian Aker spoke separately at the annual MySQL Con in Santa Clara, California, where they pitched hard their MySQL forks and their unshakable beliefs that no one company should become the single source for MySQL development or support.
They articulated a vision of diversity of developers and companies supporting MySQL, and the view that their MySQL forks should be owned by developers interested in code - not a business motivated by profit.
The spectacle was made bizarre by the fact that MySQL is now owned by database giant Oracle, which is listed as a "founding sponsor" of O'Reilly Media's MySQL Con. Just the day before, Oracle chief software architect Edward Screven tried to bond with MySQLers, saying their database was safe because it allowed Oracle to offer customers a single, integrated and supported stack.
Screven promised there'd be projects to tie MySQL into Oracle's software fabric and management products. Possibly the opposite of the right thing to tell open sources, keen on independence and openness.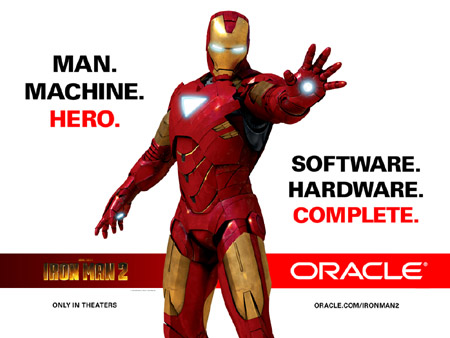 Send in the machines: Oracle sees itself as your hardware/software hero - complete
It was a corporate message plucked straight from the slide deck of Oracle's annual OpenWorld that failed to strike a chord with the DBA and developer faithful that applauded politely following some encouragement from MySQL program chair Colin Charles once Screven had finished.
Now, 24 hours later, you had MySQL's daddy and a top architect preaching exactly the opposite to Screven: that community is good and single stacks and one supplier are bad - bad for innovation in the code base and in the business ecosystem. It was a message of independence they used to distance themselves from Oracle, and appeal to users and potential code contributors.
It was a duet that'll test just how far Oracle is willing to engage with the community, tolerating dissent and spend its time and money on a MySQL conference that grants out-spoken critics and fork leaders such a prominent forum.
Any event that does anything less than blast the alpha-male Oracle marketing message that "we can do it for you wholesale", gently articulated by Screven Tuesday and forcefully in Oracle's latest ads that co-opts the forthcoming Iron Man 2 is extremely un-Oracle.
According to Oracle's Iron-Man-2 web site (PDF): "Just as man and machine join flawlessly to power Marvel's invincible hero Iron Man, Oracle's industry-leading software and hardware seamlessly integrate to deliver a complete IT stack unmatched by any competitor."
Oracle is trading on the fact Iron-Man owner Marvel Entertainment uses its products while saying the combination of Oracle's software and Sun's Solaris, servers and storage means it can deliver "best of breed", "leading edge"... well, you get the picture.
Iron men of SQL
With all this machismo in the air Aker delivered a stern promise there'd be no "Drizzle Incorporated" for his MySQL fork. Aker, who left Sun Microsystems following the Oracle acquisition, said he doesn't want to create a company that has a "strangle hold over innovation."
"There will be people who provide services around it - there will be no central company," he said.
As a corporate entity MySQL had lost its focus on innovation - even before the Sun then Oracle acquisitions, he said. Features in the then planned MySQL 5.0 appealed more to OEMs interested in a cheap embedded replacement to Oracle or for running SAP's dusty old R/3 rather than users like Facebook and Google looking to the future of large-scale, multi-core, 64-bit computing.
Aker encouraged more forks, saying this would create a rising tide of opportunity and innovation. "We have an open code base. We allow people to fork it - we encourage people to build products around it," he said.
Aker promised he'd announce two companies providing support for Drizzle this summer, around the time of the O'Reilly Open Source Convention (OSCON) in Portland, Oregon.