Novero TheFirstOne designer Bluetooth headset
In the ear of the beholder?
---
Review Apparently comprised of ex-Nokia hands, Novero is a company focused on phone accessories for users on the move. The matter-of-factly entitled, TheFirstOne is Novero's designer Bluetooth headset heralded to 'change the way we look at technology' and is priced accordingly at £120.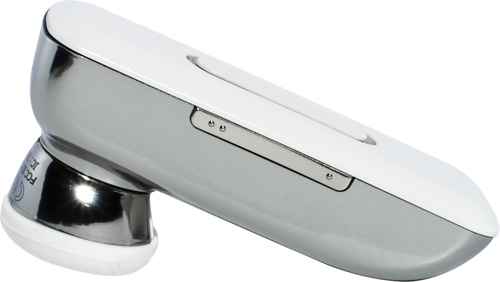 Novero's TheFirstOne and indubitably not the last one
TheFirstOne is marketed as a fashion accessory and for good reason, it has an inconspicuous yet very elegant design with smooth edges and slightly curved surfaces. The top is matt white with chrome highlights and body with a very thin volume control on the side and a one-touch single multi-purpose button in the centre of the unit.
After years of mobile phone gadgets designed for men and by men TheFirstOne is a pretty much a girl thing. You can actually wear it instead of trying to hide it. For those after a more macho look Novero offers TheFirstOne with a black leather coating. There's also the Lexington, a different design altogether with its brushed steel finish. I always hated having to use a headset, but I must admit I was charmed by TheFirstOne almost at once.
It is discreet yet elegant and, best of all, it comes with an incredible range of accessories included in the price. Among them is a set of international adapters, an in-car charger, a set of rubber earpieces to fit any ear size and even a desk stand. The earpiece is comfortable and thanks to the range of sizes available, you'll find a good fit for every earhole. Having quite small ears and I normally struggle with earphones, but TheFirstOne fitted snugly.
As with all fashion accessories, TheFirstOne is made to be seen – that's why Novero provides a specially designed necklace and a shirt clip to show off the headset when not in use. They will also help to stop you losing it – so easily done with these small gadgets.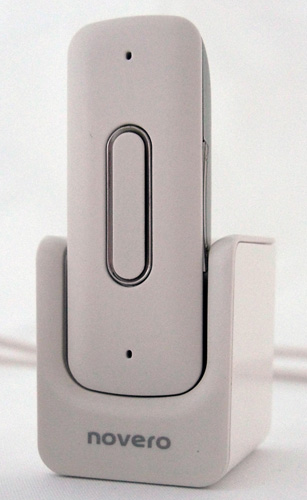 A car charger is among a bounty of accessories supplied
This German manufacturer, responsible for producing Bluetooth technology for Audi, Mercedes, Bentley, Volkswagen and BMW, not only created an attractive object but a fine piece of equipment that delivers high quality sound. The voice quality of the earpiece is clear, crisp and full and the same goes for the way your voice is heard through the headpiece microphone. The first time I asked a friend to call me with TheFirstOne I thought she had not yet connected the headpiece as her voice sounded so close and clear.