This article is more than 1 year old
Blighty's first home grown war robot takes to Welsh skies!
Pigs may not fly, but pork barrels can
A quarter of a million Brit civilians living off the MoD quite simply isn't enough
In fact, Watchkeeper is projected to cost £900m at the latest estimates for the supply of 54 aircraft, putting each one at £17m - though subsequent purchases by any export customers would be much cheaper (provided that the production line stays open), the MoD having paid the development costs.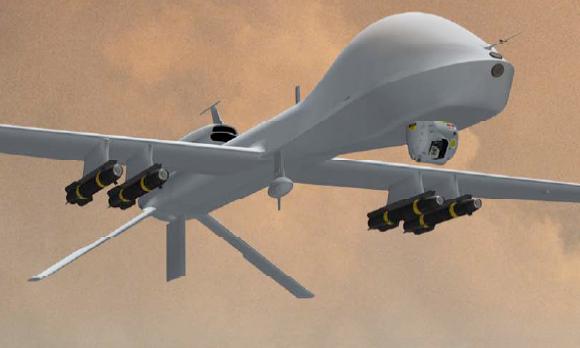 Cheaper, and armed as well. But no drone-drome for Wales or jobs for Leicester.
By contrast, the US Army Sky Warrior programme is intended to field a fleet of 132 aircraft with ground stations spares and other support for approximately $1bn - or $7.5m per aircraft, say £4.9m at current rates. The Sky Warrior does all that the Watchkeeper does and a lot more - unlike the Brit-Franco-Israeli aircraft it is armed, able to carry four Hellfire missiles. It is already in combat service.
Even a much bigger and hugely more powerful Reaper drone, able to carry 14 Hellfires and climb to 50,000 feet - already in service with British forces in Afghanistan - only costs £10m, according to the MoD, as compared to £17m for a Watchkeeper.
As it happens General Atomics, makers of both the Reaper and Sky warrior, announced a fortnight ago that they are currently delivering eight aircraft a month "with the capacity to double production if needed".
Watchkeeper is currently running six months late: yesterday's flight should have happened last year, and it will not commence deliveries to the Army this summer as planned.
There can't be much doubt that if the MoD had simply ordered Sky Warriors from the States - or enhanced Hermes 450s direct from Elbit - without attempting to set up a (somewhat) British drone-manufacturing industry in the process, our troops fighting overseas would have got what they needed a lot quicker and for a lot less money.
Of course then we wouldn't have our 2,000 new, well-paid armsbiz jobs. Thales note as an aside to today's announcement that they believe there are already 305,000 people in the UK arms industry - around three for every (poorly paid) soldier in the British Army, if it's true, and this on top of 80,000+ MoD civil servants.
According to senior industry executives, no more than 55,000 of these jobs are linked to exports and thus are not dependent on MoD funds (the reality is probably much fewer, as exports of defence manufactures have run at a paltry £1-2bn in recent years).
Comment
Even by the arms biz figures, we taxpayers were supporting a cool quarter of a million well-paid civilians here in the UK from our defence budget already, even before the Watchkeeper job-creation scheme. We only have a hundred thousand soldiers, who are much worse paid at every level and are infinitely more worthy of our support and respect. Quite a lot of us might reasonably wish our cash had been spent in other ways. ®