This article is more than 1 year old
Hasselblad CFV-39 digital back
39Mp upgrade for your 50-year-old camera, anyone?
Phocus, the supplied software, even knows what corrections – tiny imperfections with any lens when using a digital back – need to be applied to each and lists every lens Hasselblad ever made. Now, that's thorough. The exception being the SWC, a 38mm super wide angle, non-interchangeable lensed architectural camera. Possibly thought to be too strange to correct to Hasselblad's very exacting standards. You get the impression this is a company that might think that if you can't get it 100 per cent, then don't encourage using it.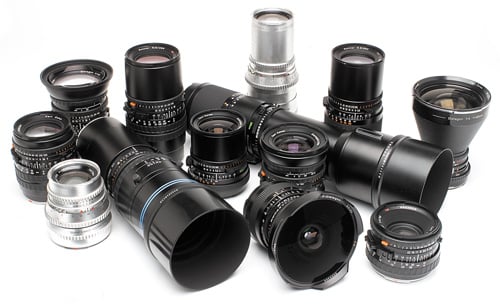 V-system range of lenses
In fact, it's that striving for excellence that has kept an exclusively film-based medium -format stills camera manufacturer in the game well into this century. Yes Nikon, Canon, Leica et al have done marvellous things with the 35mm format. But it is here where you are dealing in centimetres not millimetres that produce negatives – and now files – that you can immerse yourself in.
The sensitivity on the CFV-39 is kept within sensible limits offering ISO 50, 100, 200, 400 and 800, though I am sure you would keep in the lower numbers here - to get the absolute best possible noise-free images. As for handling speed, apparently 39 shots can be taken in one minute, and that I am sure is plenty. With the motor wind on, one shot every couple of seconds doesn't sound too bad. Most users will have tried or even been fans of the manual winder to advance the film and cock the shutter once more. These machines are from a simpler mechanical time, and surely that is part of their charm.
Hasselblad's Instant Approval Architecture (IAA) helps speed up the workflow with these large files. Basically, when previewing on the back, you assign every frame one of three states - Green Yellow and Red, it's up to you what they mean. One would suspect it's Green for golden, it is a 'keeper', yellow is a maybe, and red is let's not see this again...
One gripe is the screen on the back itself is not really up to telling you much. It is small, and not very high resolution, although you can zoom in on captured images to check focus. I suspect that it is just there really to tell you if everything 'fired' rather than to make critical decisions. Best to bracket and shoot again, just like you used to do with film. Tethered systems to workstations obviously have large high definition screens so would be able to display in glorious quality instantly.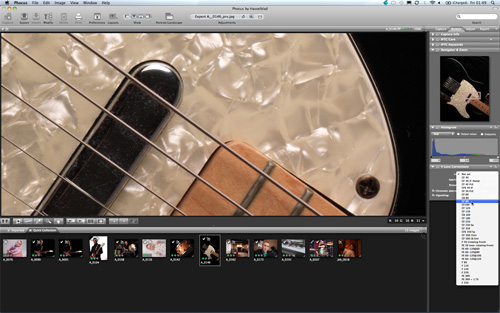 Each lens has its own calibrated corrections that can be selected within Phocus
Click for a larger image
With this colour coding, you only work on the very best images and this is from your instincts on the day. Each image is approx 50MB in its RAW form from the card - or transferred, which equates to a 117 TIFF file (8-bit) when unpacked and saved. So the supplied 2GB CF cards could hold just over 30 images when in the field. Shooting editorial would have typically been three rolls of film (12 on a roll) for a short session, so nothing changes, except the cost.