This article is more than 1 year old
Hasselblad CFV-39 digital back
39Mp upgrade for your 50-year-old camera, anyone?
A back like this, including VAT will cost in excess of £10,000. Now taking into consideration the film and processing costs, this is still a large enough investment. Even though the camera is worth several thousands, this is clearly something that you may only consider hiring which will set you back around £230 a day, which is certainly manageable and there are leasing deal too, of course.
That said, you can use your favourite camera that you haven't picked up in years, and rediscover the true reason you got into medium format shooting in the first place, because once tried, it is incomparable.
It's a breathtaking combination of the quality of the lens up front, married with the technology at the back. This is exactly what these older cameras needed. Maybe larger sensors are coming in the RED system, one day; but for now here is the proven, great name of Hasselblad making a legacy product which will lead its many users one day into another system, a fully digital one.
If you were content with the system using 120 film, then the means to capture light in a more convenient, 'faster to page' way is here. The only thing you will have to do is give up your evenings tweaking the images in Phocus, as this is half the story.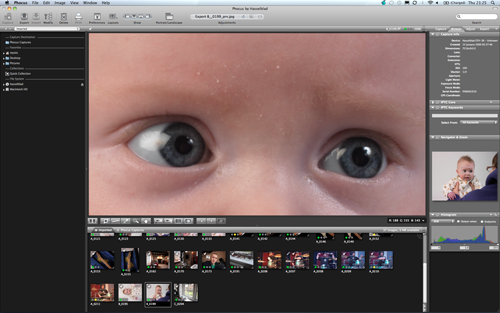 The right thumbnail shows all the image with the large image showing on-screen at 100 per cent
Click for a larger image
Whereas you used to give your film to a professional to dunk through chemistry in controlled conditions you now have to dunk 'virtually' yourself. But with some presets, and a lot of hard drive space. You will be delivering beautiful, huge, 16-bit files. Though probably having to end up making JPEG versions for the rest of the world to see.