Activision Tony Hawk Ride skateboard controller
A board game, for real
Review Trying your hand at skateboarding without falling on your bum or grazing your knees is now possible, all thanks to a videogame. Based on pro-skateboarder Tony Hawk it has been developed to allow you to perform virtual ollies, grinds and flip tricks using a wireless skateboard peripheral.
Ride comes before a fall: Activision's Tony Hawk Ride
Tony Hawk Ride takes its inspiration from the likes of Guitar Hero, but instead of pairing you with a plastic instrument Ride is controlled by a life-size skateboard – the deck measures 711 x 198 x 25mm – without wheels.
The idea is simple. When you step onto the board and lean left, Ride's on-screen character moves in the same direction. When you tilt the board's nose up to one side, your character responds with various cool skateboarding moves like ollies or 180° spins.
The skateboard peripheral's build quality is impressive. Weighing roughly 2.8kg – real skateboards usually weigh between 1.3kg and 3kg – the board feels sturdy and its gritty top surface stops your feet from slipping off.
Before skating any of Ride's virtual skateparks you must calibrate the board with your console. This process is quite dull, but only needs to be done once and actually helps anyone who hasn't skateboarded before to get to grips with basic moves.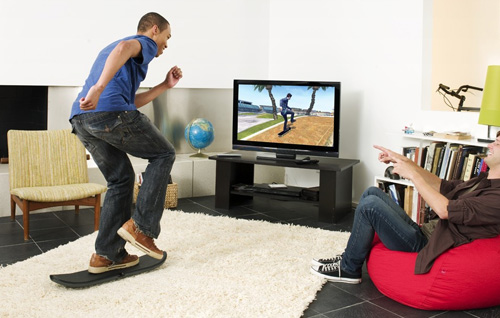 Keeping the yoof of today off the streets
While completing the basic calibration techniques – which include setting the board up for left foot or right foot forward [aka "Goofy", stance] – I also discovered that you need lots of space around you in order to move the board about freely and enthusiastically.