This article is more than 1 year old
Activision Tony Hawk Ride skateboard controller
A board game, for real
The board is powered by four AA batteries (supplied) and can be used on carpeted or wooden floors – non-scratch pads are supplied to prevent the board's underbelly, smooth as it is, from damaging floorboards – but no matter where I used it, the board slipped about all over the place each time I performed a trick.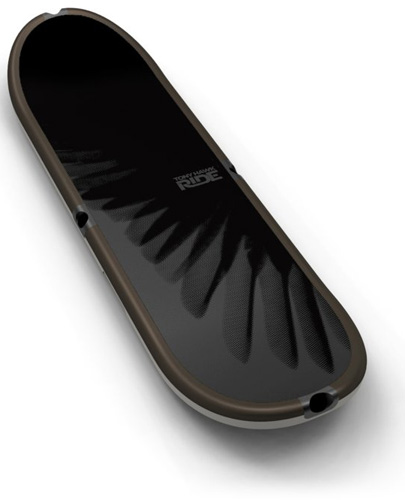 Slip slidin' away
As I got deeper into the game I became more annoyed by the board's slippery nature. Sometimes the board shifted so far to one side that I couldn't see the on-screen display. A nudge to the board with your foot easily corrects this, but I couldn't help but feel that a bundled non-slip mat would improve things.
Making the on-screen skateboarder replicate basic moves – such as ollies - is easy. Thankfully, though, you don't need to physically flip the board over for your character to do the same because they perform more complicated tricks in response to your board's tilts and twists.
Nonetheless, learning how to pull off more complex tricks is hard work and after 45 minutes of continuous play, I'd worked up quite a sweat. According to publisher Activision Ride has over 100 tricks to master to keep you busy.
Board communication with the videogame isn't faultless, though. Ride occasionally makes you cycle through on-screen menus by tilting the board from side to slide and select options by raising its nose. This method is a real pain because raising the board's nose often caused me to select the wrong choice.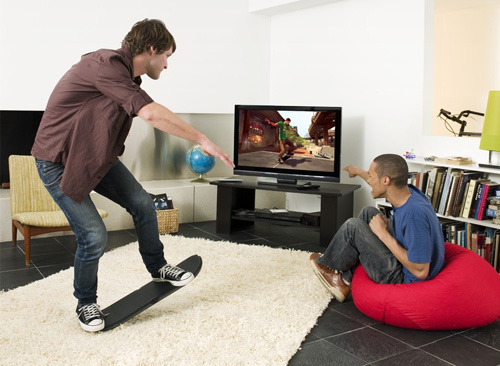 Bored game: Are we nearly there yet?
An oversize 'Start' button on one side of the deck can be used to select menu options instead of raising the board's nose, we should point out, and the button's location makes it perfect for nudging with your rear foot.