This article is more than 1 year old
Activision Tony Hawk Ride skateboard controller
A board game, for real
Sometimes Ride reverts back to controller-based menu navigation without warning, but knowing when to reach for my Xbox's controller or tilt the board to cycle through menus, was something I never fully figured out.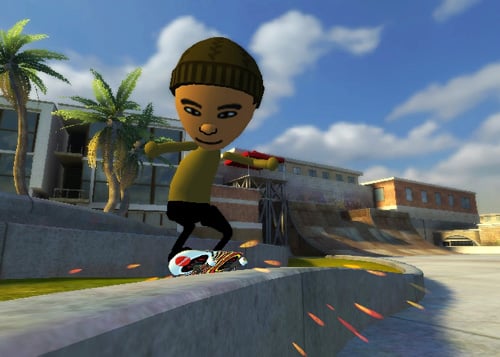 On the Nintendo Wii the skating character becomes a Wii Mii avatar is
Tony Hawk Ride isn't your standard videogame. Mastering the board, maintaining your balance and learning all the tricks takes many hours. Although flipping an ollie over a trashcan then grinding down a park bench and finishing off with an advanced flip trick is very satisfying – if exhausting.
When simply riding through a skatepark the board must be placed nose-on to the console and you make the character skate faster by swiping your foot past one of the board's side-mounted sensors. I had to keep doing this every 10 – 15 seconds, depending on the virtual terrain, to keep my character moving along swiftly.
A second skate mode, known as Vert, is also available. Vert is designed to replicate skating in a half-pipe and so the peripheral must be placed sideways-on to the console. The position change isn't really necessary, though, because I discovered that you can skate Vert with a nose-on stance.
Since my body was always sideways-on to the TV during Vert skating I found this eventually became a real pain in the neck, because my head was constantly strained round towards the on-screen action.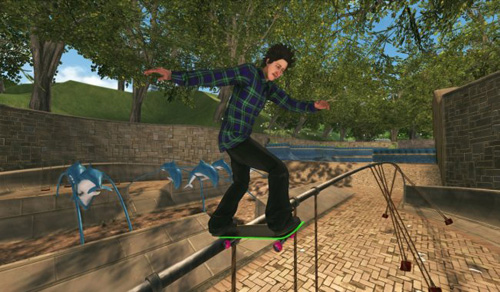 Xbox gaming in action
On a real skateboard you can adjust the deck's performance by loosening or tightening the trucks. Ride attempts to replicate this with four virtual truck settings, yet none made any noticeable improvements to the skating experience.