This article is more than 1 year old
Activision Tony Hawk Ride skateboard controller
A board game, for real
Various difficulty levels are also available, but these only affect how you're guided through skateparks and level of skill required of your character by the videogame – not how the board performs. I also tested Ride's board with Shaun White Snowboarding, but the snowboarding character seemed to have epileptic fits when the skateboard was used instead of a handheld controller.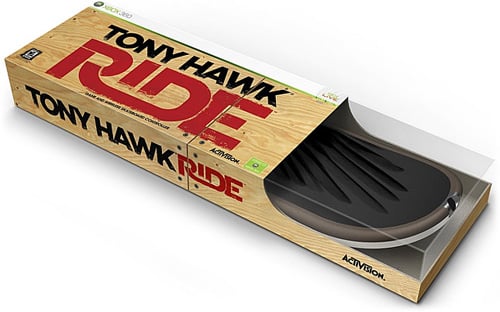 End of an era: the couch potato's gaming nemesis
Verdict
Tony Hawk Ride adds a new dimension to videogames because its skateboard peripheral makes pulling off on-screen tricks a physical and more enjoyable experience than furious button tapping. Plenty of empty living room space is needed to fully enjoy the game, but Ride delivers solid gameplay and plenty of fun for both skateboarding fans and gamers of all ages. ®

Activision Tony Hawk Ride skateboard controller
Work up a sweat at home with a scrape-free skateboard controller and game for PS3, Wii and Xbox.