This article is more than 1 year old
Google Chrome OS to route print jobs around planet
The Chocolate Factory as print server
Google has explained how it intends to print from its browser-obsessed Chrome OS netbooks. Naturally, it will send all your jobs across the net, through its servers, and back down to a PC elsewhere in the room.
In fact, Google intends to send all your print jobs through its servers whether they're coming from a Chrome OS netbook or a machine that has nothing to do with Chrome OS, including desktops, notebooks, and mobiles. Well, through its servers or - in theory - someone else's.
The company has open sourced the code for its online print service, hoping to encourage other outfits to duplicate this contraption that takes print jobs across the world and back again.
We would argue it would be easier to create a common protocol that lets any machine talk to any printer. But Google likes it when stuff goes through its servers. It likes it a lot.
When Google released some early Chrome OS code last fall, company bigwigs hinted that some sort of newfangled printing contraption was on the way. And now, with a post to the official Chromium blog, Mountain View has explained at least a little of its thinking, while announcing that code and documentation for the setup are now available as part of the open source Chromium and Chromium OS projects.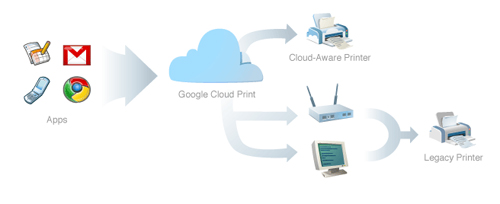 Google's plan to send your print jobs around the world
The fledging Chrome OS - not due for official release on netbooks until the end of the year - puts all applications and data inside the browser, and Google has no intention of building and bundling print drivers.
"While the emergence of cloud and mobile computing has provided users with access to information and personal documents from virtually any device, today's printers still require installing drivers which makes printing impossible from most of these new devices," the company says.
"Developing and maintaining print subsystems for every combination of hardware and operating system - from desktops to netbooks to mobile devices - simply isn't feasible."
Who needs local drivers
Instead, the company is designing an online service dubbed - predictably - Google Cloud Print. "Since in Google Chrome OS all applications are web apps, we wanted to design a printing experience that would enable web apps to give users the full printing capabilities that native apps have today," Google says.
"Rather than rely on the local operating system (or drivers) to print, apps can use Google Cloud Print to submit and manage print jobs. Google Cloud Print will then be responsible for sending the print job to the appropriate printer with the particular options the user selected, and returning the job status to the app."
The service is meant for use not only with the web apps running on Chrome OS, but any breed of desktop or mobile app as well.
The ultimate idea is that things called "Cloud Aware Printers" will connect directly to this sky-high service - and to other similar services. "The ideal experience is for your printer to have native support for connecting to cloud print services. Under this model, the printer has no need for a PC connection of any kind or for a print driver," the company says.