Google Chrome OS to route print jobs around planet
The Chocolate Factory as print server
---
Around the cloud in 300dpi
But these Cloud Aware Printers don't actually exist. In the short term, Mountain View sees legacy printers connecting to its service via a software proxy. This will sit on the PC where the printer is installed. "The proxy takes care of registering the printer with Google Cloud Print and awaiting print jobs from the service. When a job arrives, it submits the print job to the printer using the PC operating system's native print stack and sends job status back to the printer."
Google is currently developing a proxy for Windows, and it plans to support Mac and Linux as well.
Applications - whether on the desktop, a mobile, or in the browser - wil submit print jobs to the Google Cloud Print via a common print dialog or API, and Google Cloud Print will send the jobs to a printer which the user has previously registered with the service. Google intends to bundle the proxy with its Chrome browser (not to be confused with Chrome OS).
"So, by simply installing Google Chrome on their PC and enabling the feature (it is off by default), users will be able to print via Google Cloud Print," the company says.
Of course, this means you can't print to the printer unless the PC is connected to the net. But Google intends to solve this little problem with its Cloud Aware Printers and similar devices. "[The PC-connected-to-net] requirement is why we are excited about working with the industry to build native support for cloud print services into their printers," Google says.
"We are also hoping some clever folks in the community will build proxies-in-a-box (like routers with print server abilities) so users get all the benefits of the proxy without needing to leave their PC powered on."
Google Chrome OS will use the Google Cloud Print service for all printing. It will not accept print drivers. This means you won't be able to print directly to a printer. You'll have to print to some other PC. When it's on. And connected to the net. If you have one.
Web apps go native
Some web-based apps will be pre-built to tap directly into the service - with no involvement from the Chrome OS - but if you're using another app, it will print by way of the browser.
Google says: "In this case, Google Chrome on Chrome OS is a native app that uses Google Cloud Print and common print dialog. The content to be printed is uploaded to the Google Cloud Print along with the job ticket information and then sent to the printer."
It's a roundabout way to send a print job. To say the least. If you send a document to a printer sitting on your desk, it will first make a trip to a Google data center somewhere else on the planet. It's typical Google really. The company wants as much as possible going through its servers. That way it can analyze the data - or store for analyzing later - and eventually use it improve its services and target ads. That's the aim of Chrome OS itself.
Sure, if you're using Google own web apps with Chrome OS - Google Docs, say - you documents and data are already stored on Google servers. But with Google Cloud Print, data from third-party apps goes through the Chocolate Factory as well.
At this point, questions of privacy and security are mere hypotheticals. The service is still underdevelopment. But the questions are there nonetheless. The best we can say is that Google Cloud Print beats iPad printing: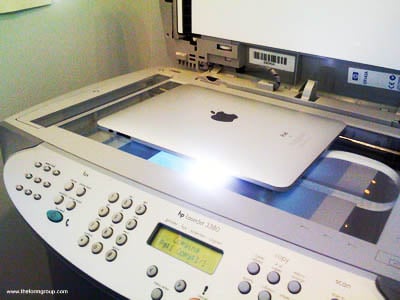 How to print from an iPad, according to design company Form
®