About 25,000 light years from earth, nestled in the center of our galaxy, lurks a supermassive black hole. Luckily for us, our galaxy's matter-sucking hub is far less active than those at the core of many other galaxies.
If it weren't, we'd all be dead. Or, more likely, our earth would never have come to be in the first place.
Such are the conclusions of a team of researchers from the University of Nottingham's School of Physics & Astronomy, led by PhD student Asa Bluck, who gave a talk on Friday at the 2010 Royal Astronomical Society National Astronomy Meeting (RAS NAM) entitled "The Co-Evolution of Massive Galaxies and their Supermassive Black Holes over the last 11.5 Gyrs."
That title is sciencespeak for findings that Science dubbed "Supermassive Black Holes Can Kill Whole Galaxies" and that the RAS's own PR machine simplified to "Black Holes and Galaxy Death."
Most boffins agree that there's a black hole at the core of most - if not all - galaxies, and that those monstrous gravitational sumps can have masses between hundreds of thousands to billions of times that of our puny sun. Which, by the way, is over 330,000 times as massive as our home planet.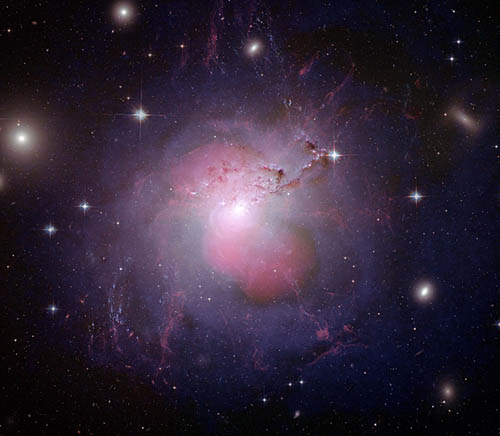 NGC 1275 suffering galaxicide at the hand of its supermassive black hole
What Bluck and his team claim to have discovered is that black holes of the supermassive class are more common than thought - about one-third of all massive galaxies have them in their centers, they say - and that in many cases those supermassive black holes are murdering their hosts.
As black holes suck galactic dust and gas into their maws, the doomed matter heats up as it rotates around the black hole before falling past the event horizon. This heating releases an enormous amount of radiation - so much so that the energy from this "accretion disk" can be greater than that emitted by the hundreds of billions of stars in the doomed galaxy.
And according to Bluck, the galaxy that is having its life thus sucked out is, indeed, doomed. The accretion disk's radiation "shines" across all wavelengths - from radio waves to gamma waves - and in doing so it heats up the galaxy's remaining gas and dust so much that that material becomes too warm to coalesce and form new stars.
With no new stars being born, the galaxy can't renew itself, and its existing stars eventually burn out as red giants. At that point it's lights out, galactic party over, last one to leave please turn off the accretion disk - because with nothing left to eat, the black hole itself is doomed.
Bluck and his team gathered the data for their study terrestrially from the Palomar Observatory Wide-field Infrared Survey, and exoatmospherically from the Hubble Space Telescope's Near Infrared Camera and Multi-Object Spectrometer (NICMOS) and the Chandra X-ray Observatory. ®