Americans will get the 3G iPad before UK punters can even order a Wi-Fi model, at an expected price of £399.
And Americans can even get 4G connectivity, after Sprint ran up its own WiMAX case for the jumbo pod.
Apple has just slipped the 3G iPad onto its US on-line store with a shipping date of May 7, three days before the Wi-Fi version will be available to order in the UK. We don't know what Apple will be asking for its jumbo-iPod in the UK, though analysis from Vouchercodes provides an uncontroversial UK price of £399, based on previous Apple product launches.
Americans who can't even wait until May 7 can get wide area networking now, thanks to an iPad case from Sprint that incorporates a Wi-Fi hotspot with WiMAX backhaul - so you can connect up your iPad and iPhone at the same time, if you really hate AT&T that much.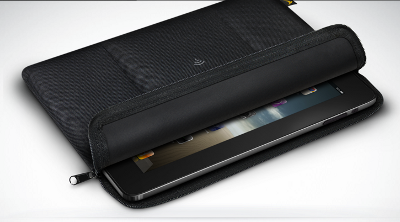 Sprint's, surprisingly elegant, solution to get WiMAX into the iPad
With every UK operator planning a subsidised iPad tariff (with the exception of 3, who offered us an iPad-nano when we phoned to enquire) we can expect to see them offering bundled mi-fi boxes in much the same way, though the two-box approach is less elegant that Sprint's solution. Not to mention that only Sprint can promise the touted speed available to WiMAX.
And we still don't know how much an iPad is going to cost in the UK, though Vouchercodes has made a stab at working it out based on comparing the US and UK price of various Apple products at launch, and allowing for fluctuations in exchange rates, to come up with an average transatlantic mark up of 22 per cent, which would put a UK price of £399 on the cheapest Wi-Fi model. US customers pay $499.
Four hundred quid seems a realistic price for the tablet, though we'll have to wait another three weeks to find out what subsidy the operators are offering, unlike the Americans who seems swamped with options for the next-generation computing paradigm. ®
Similar topics