PARIS hacked Canon test (almost) runs on rails
PowerShot powers down mid-shoot
---
A break in the dismal spring weather yesterday allowed the Reg's Paper Aircraft Released into Space (PARIS) team to run an outdoor test on the main payload Canon PowerShot A560.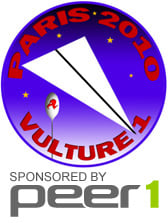 The camera has been given the Canon Hack Development Kit treatment which allows us to run a BASIC script intervalometer, tweaked by our very own Murray Walker to grab a snap every five seconds.
A quick initial try-out indicated all was well, and once bolted to the top of the PARIS command vehicle, the camera happily went about its business for 45 minutes before inexplicably turning itself off. The batteries weren't the issue, since they still had plenty of juice, so we'll have to run a further test to see whether it's a problem with the script or the camera.
In the meantime, here's a quick blast of what we did capture, suitably accelerated for your viewing pleasure:
®