This article is more than 1 year old
'iPhone 4G' found on floor of bar
Photos from a Jobsian future
Updated The next-generation iPhone will have a new flat-back design, front- and back-facing cameras, a MicroSIM slot, a larger battery, and a higher-resolution display - according to a spate of photo-enriched rumors flooding the intertubes.
Over the weekend, Engadget published photos of what it claims to be an iPhone 4G prototype that they obtained after the device "was found on the floor of a San Jose bar inside of an iPhone 3G case."
This images look a lot like an alleged next-gen iPhone that appeared in a twitpic posted to the web on February 20 by a young fellow with the handle of TUDream.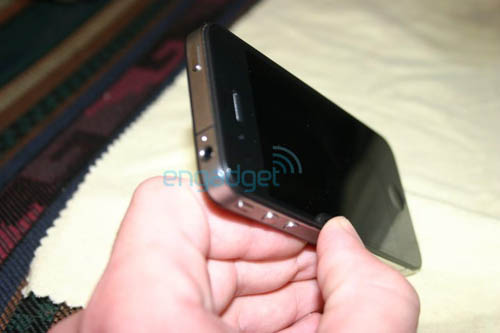 The iPhone 4G, according to Engadget
And now, Gizmodo claims to have obtained the mystery phone itself. Although their report on its provenance differs slightly from that of Engadget's - they say it was found in a bar in Redwood City, which is about 20 miles north of San José - it does, indeed, appear to be the same device.
Long-time Apple-watcher John Gruber of Daring Fireball agrees: "It's been an open secret to those of us in the racket that Gizmodo purchased this unit about a week ago, from those who claimed to find it. That this belongs to and was made by Apple is almost beyond question at this point."
To their credit, Gizmodo not only published photos and videos of it, but also took it apart to determine if its guts are sufficiently Appleonian.
Gizmodo's conclusion: "There's very little possibility that it's a fake."
It's also quite possible, however, that the purported iPhone 4G is merely a test-level prototype and that its industrial design, fit, and finish are different from what Apple may eventually release.
So don't get too hung up on the phone's flat-back design or its aluminium frame complete with seams - they may be part of the final design, or they may not. It's simply not knowable at this point. But that said, there's a lot of interesting news about its capabilities.
Dual cameras, for example - one on the front, presumably for video conferencing, and a larger one on the back, complete with (finally) an LED flash. There's also a secondary microphone, which Gizmodo theorizes is for noise cancelling.
The person from whom Gizmodo obtained the device told them that when they found - stole? - it in either San José or Redwood City, it was running iPhone OS 4.0. Before they gave - sold? - it to the Gizmodeans, however, Apple had remotely disabled it.
We can only assume that Apple also disabled the poor schmuck who lost it in that peripatetic pub.
Gizmodo notes that they were unable to revive the purloined handset - which gives their claim of its authenticity more weight, considering that the iTunes-supplied firmware update is device-specific, and no firmware for the iPhone 4G yet exists in the wild. Obviously.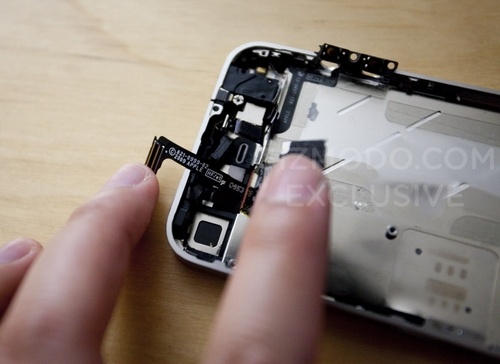 Inside the iPhone 4G, according to Gizmodo
The device does, however, display the "Connect to iTunes" setup screen when fired up - and the Mac recognizes it as an iPhone when it's connected. That setup screen, according to Gizmodo, indicates that the display resultion is improved over the current iPhone's rather pedestrian 480-by-320 display. (Google's Nexus One, by contrast, has a 800-by-480 display.)
As Gizmodo put it: "The USB cable on [the setup] screen was so high quality that it was impossible to discern individual pixels. We can't tell you the exact resolution of this next-generation iPhone, but it's much higher than the current iPhone 3GS." Not that improving the display would be all that difficult.
Gizmodo also notes that the battery in the mystery device is heftier than the one in the the current iPhone 3GS - 5.25WHr compared to 4.51WHr - and that a number of parts inside the phone are clearly labled "Apple" - although, unfortunately, they provide no information on the processor or any other of the inside circuitry.
Finally, US readers shouldn't get too excited about that aforementioned MicroSIM card. Having such a slot doesn't argue either for or against the existence of Verizon capability for the next generation of iPhones, and neither does Gizmodo's teardown.
Of course, all this speculation, all these photos, and all these videos are to be taken with a healthy dose of skepticism. The device that TUDream, Engadget, Gruber, and Gizmodo are claiming to be the next iPhone may be what they say it is - or it may merely be a prop in another hype-generating ploy foisted upon us by the most adept free-publicity outfit on the planet. ®
Update
First, Edible Apple reports that Gizmodo paid a cool $10K for the purported lost/stolen/misplaced/planted iPhone 4G.
Second, early Monday afternoon Gawker Media founder Nick Denton tweeted: "For people who want to know the backstory to Gizmodo's iPhone exclusive, it's coming. And it's a corker."
Third, if the proto-phone was not a plant, it's a good bet that Steve Jobs is at this very moment performing a rather fair imitation of Eyjafjallajökull.