'R2' robot to join space station crew, says NASA
Not a proper R2 unit though - can't do EVA
NASA has announced that once again life is to imitate art, as the human race's principal manned spacecraft - the International Space Station (ISS) - is soon to gain a robot crewmember known as "R2".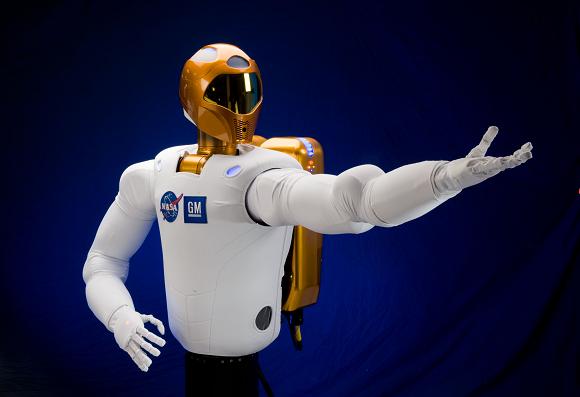 Probably doesn't have a message from an imperilled princess or anything.
Rather than a small ambulatory bleeping dustbin riding in a socket outside the station, however, the droid - also known at NASA and partner developer GM as "Robonaut 2" - will be resident inside the station's "Destiny" lab module. According to NASA the machine "does not have adequate protection needed to exist outside the space station in the extreme temperatures of space".
This is something of a disappointment as one of the principal roles foreseen for the robot was Extra Vehicular Activity (EVA) or spacewalking, a complex and time-consuming task for human astronauts. The lengthy periods spent suiting up and unsuiting fleshy operatives would of course be unnecessary in the case of the "Dextre" robot already available for use with the station's manipulator arm, or future space-proofed R2s.
For now, however, the human-style droid torso unit will remain confined to the station interior, having been flown up aboard space shuttle Discovery during the STS-133 mission scheduled for September.
According to NASA:
Testing the robot inside the station will provide an important intermediate environment. R2 will be tested in microgravity and subjected to the station's radiation and electromagnetic interference environments. The interior operations will provide performance data about how a robot may work side-by-side with astronauts. As development activities progress on the ground, station crews may be provided hardware and software to update R2 to enable it to do new tasks.
Global motor mammoth GM, partnered with NASA on the R2, considers the effort well worthwhile.
"Partnerships between organizations such as GM and NASA help ensure space exploration, road travel and manufacturing can become even safer in the future," enthused GM R&D bigwig Alan Taub.
NASA evidently considers the R2 important, given that room has been found for the on-the-face-of-it not particularly useful machine aboard one of the few remaining Shuttle flights. Meanwhile other and potentially rather more significant technologies, (albeit like the R2 still not fully developed) have no flight slot and must hope that the new wave of privately-developed lifters arrive as promised. ®