Apple is facing a class-action lawsuit that alleges Cupertino is using faulty moisture sensors in its iPhones and iPods to unfairly deny warranty service.
The lawsuit, filed in the US District Court of Northern California last Thursday, alleges that Apple denies coverage when a device's Liquid Contact Indicators (LCIs) show that "water or a liquid containing water has entered the device."
The plaintiff in the case, Charlene Gallion of San Francisco, claims that she had two iPhones that went kaput and that although an Apple service rep told her that the LCIs were triggered, she insists that her two phones never experienced any sort of liquid-inflicted damage, submersion or otherwise.
Although this may sound at first blush like a simple case of one aggrieved person's word versus the binary determination of an unbiased hardware sensor, those LCIs have had, at best, a sketchy track record since they were first added to iPods in 2006 and later to iPhones.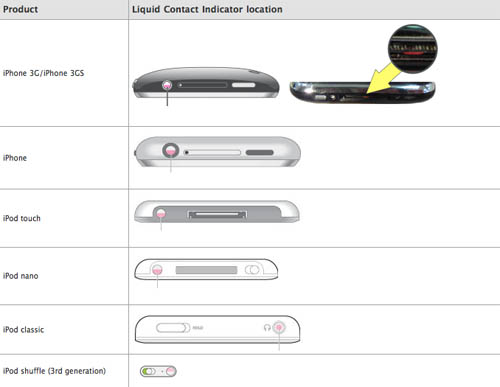 Here's where to find the LCIs in your Apple handheld
Note, for example, an article in The Consumerist with the cooly analytical title of "Is The iPhone 3G Liquid Sensor A Filthy Liar?" The author of that story reports that "many iPhone users claim that their warranties have been unfairly voided when normal use set off the sensors."
One of The Consumerist's readers reported a run-in he had when he brought his borked iPhone to an Apple Genius. "He takes one look at the dock connector on the bottom of the phone and immediately says it has water damage," the reader writes. "He checks the water damage sensors and confirms that they have been tripped. Well, that's a problem, since no water or liquid of any kind has ever come in contact with my iPhone."
Then there's a report from Cnet that tells the sad story of a woman whose iPhone lost its little electronic mind when exposed to a bit of gym-induced sweat.
And over at TechGeist there's a posting that notes that most cell phones do, indeed, have LCIs, but that in most cases those sensors are hidden away inside the phones, where only a good dunking will set them off. Apple, on the other hand, has chosen to make its sensors accessible from the outside. In the iPhone 3GS, for example, there's one in the headphone jack and another in the 30-pin connector slot.
The crowning achievement in LCI detective work, however, was conducted by the Polish website Moje Jabłuszko in conjuntion with a Polish company by the name of MacLife. You can check out their careful analysis in the original Polish or in an English version attempted by the always-amusing Google Translate.
While the Poles' analysis was centered on the handling of iPhones by the repair service Regenersis, their testing examined whether or not an iPhone's LCIs could be set off by too high a humidity level (no) or by moving it and out of a cold situation (think Polish winter) into a room-temperature one (yes).
You can check out a video of their testing here (in Polish with English subtitles), or check out iPhone Daily News Digest for a quick summary.
While none of these LCI failures are individually 100 per cent conclusive, they might be interesting fodder for Ms. Gallion's lawyers - along with an investigation as to why Apple has chosen, unlike most other handset vendors, to make its LCIs so exposed. ®
Bootnote
Last August we reported on an Apple patent filing entitled "Consumer Abuse Detection System and Method." In that filing, Apple admits that "personnel receiving [a defective] device may be unqualified or untrained to determine whether or not a device has failed due to manufacturing defects or due to consumer abuse." Such language would seem to indicate that Apple acknowledges that reading a sensor such as an LCI might require some skill.
Similar topics