So the UK Met Office closed European civilian airspace on the basis of one computer model, which it didn't check against reality. We already knew that the great volcano shut-down was based on a model, but we didn't know how little atmospheric sampling was performed to test the simulation against the atmosphere. It turns out only four test flights have been made to sample the composition of the cloud.
Matthias Ruete, the European Commission's transport chief, accused the Mystic Met of preferring virtual reality to evidence. "We have a model that runs on mathematical projections. It is probability rather than things happening," he said.
As a result the Met Office continued to issue projections of where it thought the ash cloud should be, but was unable to report its density and composition with confidence. These are critical vital factors an airline needs to know. European airlines sounded the alarm on Sunday, when they noticed that the satellite pictures didn't tally with the centre's output.
No volcano has ever had such intense media coverage - with newspapers even live-blogging the ash. But hardly anyone paused to check whether it was actually there. Only the BBC's Robert Peston, and a report on an environmental website Earth Times reported the airlines pointed out it was single sourced and a simulation.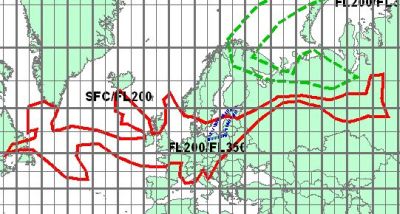 A VAAAC advisory graphic
The Met Office is involved because of its pioneering atmospheric dispersion model, now called NAME III, developed after Chernobyl in 1986. The Met's Volcanic Ash Advisory Centre is one of a network of 12, and advises Nats and the Civil Aviation Authority. It combines NAME with the Met's weather model, which is renowned for its accuracy [are you sure? - ed].
Instead of air sampling, the Met is obliged to fall back on Lidar, an optical sensing technology similar to radar but with severe limitations - the Met admits it can't tell the density of the ash.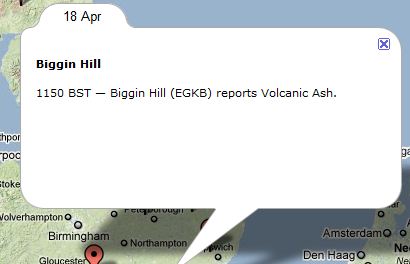 Lidar results: less than comprehensive
Field testing from balloons or light propeller-driven craft would have filled the knowledge gap. UK civilian airspace shut down on Thursday morning. A four-hour test flight was made that evening, according to the Telegraph, but was inconclusive. Europeans had to provide their own sampling data on the composition and density.
The Met hadn't got back to us yesterday. Maybe we should lend them Vulture 1 - and a few balloons. ®