HP is giving away one of its a laser gaming mouse, a digital headset and copies of Battlefield Bad Company 2 to anyone who buys one of its Pavilion Elite Desktop 150 or 180 PCs.
There's always a catch of course, and here there are several. First, you have to buy the PC and the named peripherals - HP Laser Gaming Mouse (model numeber: KZ630AA) and HP Digital Premium Headset (KJ270AA) - before the end of May. Second, you have to buy direct from HP by phone or its website.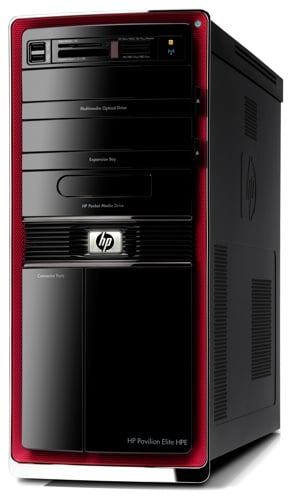 HP's Pavilion Elite 180: free game with this computer?
Finally, HP's small print reveals the deal is limited to the first 200 applicants on a first come first served basis. If you're one of them, HP will send you a code to allow you to downloaded a copy of Battlefield Bad Company 2 for free. The accessories are bundled at the time of purchase, if you buy through HP's website.
The Elite 150 package is priced at £749, which gets you a 2.66GHz Core i5-750 processor, Nvidia GeForce GT 200 1GB graphics, a 1TB, 7200rpm 3Gb/s Sata hard drive, a Sata DVD writer and 6GB of DDR 3 memory.
The £1095 Elite 180 comes with a 2.8GHz Core i7-860, 8GB of DDR 3 Ram, Nvidia GTX 260 Special Edition graphics, the same hard drive as the 150 and a Blu-ray drive. Both machines have 802.11n Wi-Fi on board.
You can take advantage of the offer here. ®