HP preps Tukwila servers for April 27
Bearing witness for Itanium
We've all been wondering where Hewlett-Packard's high-end servers using Intel's latest Itanium and Xeon processors have been hiding. Well, it looks like the Itanium boxes will be announced on April 27.
The company is being tight-lipped about exactly what it has planned for the April 27 event, but it appears to involve balancing an enterprise-class server atop the full belly of a dinosaur that has keeled over dead: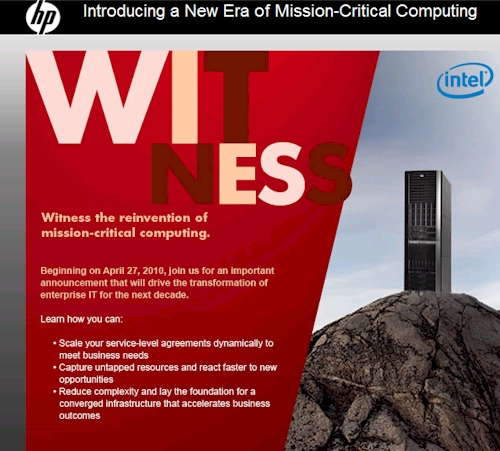 OK, perhaps that is actually an Integrity server riding the back of a dinosaur, metaphorically a mainframe, or maybe that image is supposed to be a mountain peak, in reference to the Superdome brand used by HP's high-end 64-socket PA-RISC servers and their Itanium kickers.
Anyway, the HP invite for the April 27 extravaganza says that Intel, Itanium, and Itanium Inside are Intel's trademarks, without ever mentioning them, so we know this is the long-awaited (well, for HP-UX customers anyway) announcement of Integrity machines using Intel's quad-core Tukwila Itanium 9300 processors. The Tukwilas were launched in February at the International Solid State Circuits Conference, with only Intel and HP on hand to talk, and at the time HP said that it would get Tukwila machines out within 90 days.
The April 27 launch of Tukwila-based Integrity machines coincides with the HP Technology@Work 2010 conference, which is being held from April 26 through 29 in Frankfurt, Germany. So is another related event called the HP Enterprise Technology Summit.
HP is not letting the cat out of the bag specifically in the Technology@Work session schedule, but there is a NDA session (BB-60) that talks about the "newest 8 socket scale-up workhorse," which has to be the ProLiant DL980 El Reg already told you a little about two weeks ago. The DL980 will use Intel's eight-core Nehalem-EX Xeon 7500s, of course, which employ the Boxboro chipset from Intel and the buffered memory card and I/O architecture that was designed to be compatible with the Tukwila Itaniums.
Session BB-17 at the conference in Germany covers the new Integrity servers, for which HP says "the clock has been reset for a new decade of mission-critical computing." This session, HP continues, "will cover the value delivered by New Integrity Servers including product overviews, business benefits and total cost of ownership comparisons." Yet another session, TB-04, will "cover New Integrity HP Superdome Server in detail, including its completely modernised mission-critical design, massive scaling capabilities, and world-class availability features."
Martin Fink, who runs HP's Business Critical Systems business unit, will give a 45-minute keynote on mission-critical computing and explain why HP has invested in an "entirely new range of Itanium-based Integrity Servers designed to combine the benefits of latest technology developments and HP's mission-critical operating environment." Fink will also explain how the new Tukwila iron "will make your mission-critical data centre future-proof."
I don't mean to be mean, but that is truly funny. Unless future-proof means something other than what I think it means, and unless you don't know the 15-year history of Itanium and its disappointments. It would be hard to find a platform more future-proof outside of a mainframe. As long as Intel is making money, it can indulge in HP's Itanium habit, which is good for HP-UX, OpenVMS, and NonStop customers that don't want to port their code to another platform.
The real interesting bit will be what HP does for chipsets in the high-end Superdomes. Any entry or midrange machines can be based on Boxboro chipsets and basically globally replace Xeon 7500 sockets in a ProLiant DL980 with Itanium 9300 sockets, and slap an Integrity Whatever name on it and a much higher price tag. With the Superdome high-end machines, HP has created its own chipsets, with the most current ones being the Arches sx2000. HP has said absolutely nada about the kicker to Arches and really doesn't seem inclined in the past several years to talk much about Itanium - unlike in years gone by. ®