PARIS hacked Canon: 108 minutes, 1,298 stills
Better batteries resolve PowerShot power-down
---
The El Reg Paper Aircraft Released into Space (PARIS) team reckons it's fingered the reason for the Canon A560 power-down, and yes, it's a matter of the batteries, as many of you pointed out.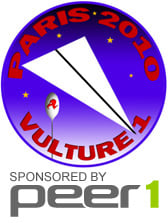 To recap, our main space payload will be packed with goodies including video camera, GPS tracking unit, mobile phone and the aforementioned Canon, which has been hacked with the splendid Canon Hack Development Kit to run an intervalometer script.
Well, our first test was going splendidly until the camera shut itself down after about 45 minutes. Various readers pointed out the A560's voracious appetite for battery juice, so we swapped the bog-standard Duracells for a couple of Panasonic Digital Xtreme Power AAs.
The result? No less than 1,298 stills over 108 minutes - until the memory card was packed to bursting. For the record, we've got a four gig SD card, and that's the maximum you can use with CHDK due to the FAT formatting required to run the software from the card. (However, see Tech Bootnote, below)
The upshot of this is that we'll probably extend the intervalometer interval to seven seconds, allowing by our reckoning two hours, 30 minutes shooting time. Sorted.
Here's our first test again. In response to your emails and comments*, yes it could do with a bit of music. By an amazing coincidence, we've got a man working on that...
Back at the test bench, meanwhile, we're waiting on delivery of some further kit which has been delayed due to that pesky and unpronounceable Icelandic ash generator. Hopefully, the GPS tracker and mobile phone (sensational details of just which phone follow shortly...) will be available for our entertainment sometime later this week. ®
Bootnote
* We're sorry that some of you just didn't find this vid exciting enough, lacking as it does Avatar-style 3D rendering, Natalie Portman, Skynet attack droids and voiceover by Morgan Freeman. We gather Daniel Craig's at a bit of a loose end, so we'll see if we can rope him in for our next production, to add a bit of spice.
Tech Bootnote
Thanks to those of you who pointed out you can use a bigger card for CHDK, if you partition it.