Sony Ericsson Xperia X10 smartphone
Windows Mobile out, Android in – hurrah!
---
There are the standard three home pages, but the main one features SE's Timescape and Mediascape icons, two items that are key to the X10's offering. Timescape will pull together all of your updates – be they Facebook, Twitter, texts, emails, phone calls, photographs or tunes – and display them in a series of cascading tiles which SE chooses to call 'Splines'. They can be all in one place if want them to be, but there's also a scroll bar along the bottom to filter them into their respective channels.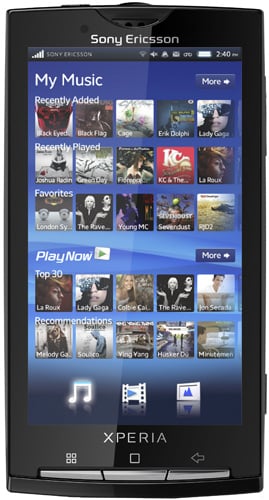 Social networking updates are catered for with the Timescape function
On each of the various Splines is an 'infinity' key and when you press it, it pulls up additional related information such as related artists if it's a song or contact details if it's a Facebook update. As well as the Timescape app, there's also a Timescape widget which flashes up your latest updates on your homepage. But while I tried, I couldn't get it to splice my Facebook friends info into the phone's contacts book.
Elsewhere, Android's better points are left in place. The menu is accessed by sliding up a bar from the bottom of the screen, while sliding down still brings up your notifications. The Google widget including voice search is on another screen along with wireless options and you can add icons and widgets by dragging and dropping from the menu in the usual way, including the Moxier suite of syncing, calendar, contacts and mailing apps.
The 1GHz Qualcomm Snapdragon processor does a good job of keeping everything running smoothly, though there was the occasional stutter when jumping from app to app, which I could have done without. Both landscape and portrait Qwerty keyboard orientations proved easy to use, due largely to the screen's supersize dimensions. Outsize tiles pop up when you connect with a key and alternative word suggestions appear as you type, but there's no haptic feedback.
The browser is impressively nippy whether using HSDPA network connection or broadband over Wi-Fi. Zoom icons appear when you brush the screen and there's a magnifiying window to help you make sense of text-heavy pages. Mediascape does for your media what Timescape does for your social life, pulling together all your music, video and photos into one handy interface with the same scrolling Splines. It's an attractive interface and, once again, you can either choose to view everything together or break it down into its constituent parts.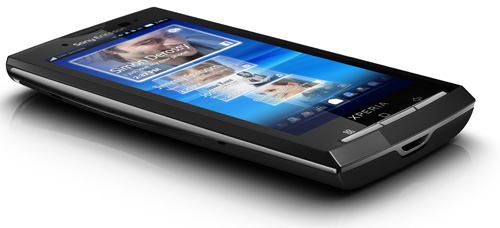 The big touchscreen display is great to view but can be unresponsive to handle
Unfortunately, it seems the actual media gallery can only be viewed in portrait mode, which is a bit strange since you'll almost certainly be turning to the X10 to watch videos in landscape mode. Videos look fine on the large, sharp screen though, and you can adjust the size by tapping the screen so it fills all of the available space.