Sony Ericsson Xperia X10 smartphone
Windows Mobile out, Android in – hurrah!
---
One thing conspicuously absent is flash, although there is a photo light that you can toggle on and off, but isn't terribly bright. Photo quality was generally very good, offering sharp lines and reasonably accurate colour balance, though it struggled a little with very bright light, even with the snow scene setting. Video capture won't deliver HD quality like its Sony Ericsson kinsman the Vivaz, but the recordings are not bad, so long as you don't plan to blow them up much beyond their natural resolution.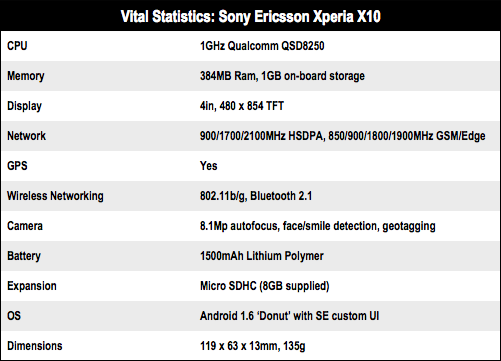 The music player gives you the option to pull in cover art from the Internet – which only takes a few seconds – as well as send tracks by e-mail. It sounds pretty good through the supplied headphones too, which offer a surprisingly sophisticated level of bass. There's no graphic equaliser though, which is a shame, and while it offers SE's TrackID service, there's no FM radio either.
You can brush the screen sideways to view all your files at once or to search by all the usual criteria and you can integrate your own music with SE's PlayNow online offering, which suggests tracks on the same screen. Press the infinity button while you're listening to a tune and it will give you the option to search for more by the same artist on the phone, on PlayNow, or on YouTube.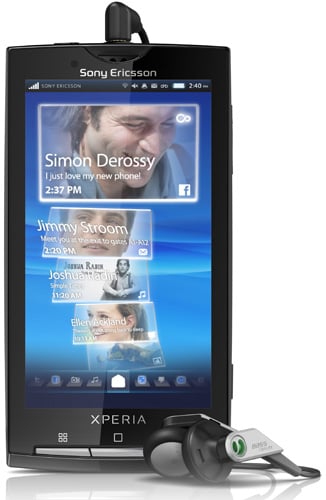 Takes the cake? Getting there, but it's a Donut for now
Additional features include a basic OfficeSuite for viewing but not creating Office docs, A-GPS backed by Google Maps and there's a 30-day trial version of Wisepilot. Battery power was a little bit underwhelming, with the X10 barely delivering a full day of intensive use. This may be due in part to its powerful processor and juice-hungry Timescape but at least you can adjust your settings for less frequent updates and to reduce screen brightness. Call quality was generally good, with the speaker delivering pleasingly rounded voice tones.
Verdict
Overall, the X10 is well worth a look, if only to gawp at its huge and impressive screen, albeit a little let down by insensitivity at times. While it doesn't have the latest version of Android either – and the processor's occasional struggles were a bit of a worry too – it does have just about the best camera you'll find on an Android phone.
Both Timescape and Mediascape do a very good job of integrating all your messages and media respectively and if these features don't exactly score a home run against HTC's Sense or Motorola's MotoBlur, they're certain to attract their share of fans. Indeed, the X10 marks a return to form after Sony Ericsson's worrying difficulties with cracking this aspect of the smartphone market and is easily the best Xperia yet. ®
More Android Smartphone Reviews...

HTC
Desire
LG
InTouch Max
GW620
Google
Nexus
One
Motorola
Milestone

Sony Ericsson Xperia X10 smartphone
Big screen, good camera and plenty of options to help organise your on-line social life.