This article is more than 1 year old
More 'Son of Nehalem' details leaked
Prepare to replace your new motherboard
A few more details emerged Wednesday about processors to be based on Intel's next-generation Sandy Bridge microarchitecture - and if you've recently invested in a socket-LGA1156 motherboard, it appears that it won't accept Sandy silicon.
The Sandy Bridge news doesn't come from Intel itself - and the company didn't respond to our request for clarification or comment - but from a post on Bit-Tech. The posting also included information about the southbridge chipsets being readied to support Sandy Bridge procs.
But first that socket switch. The upcoming procs - which will begin to appear late this year and early next - won't be compatible with the LGA1156 sockets used by the current Core i5 and Core i7 chips, the post says. Instead, it will instead require a new LGA1155 socket. Allegedly.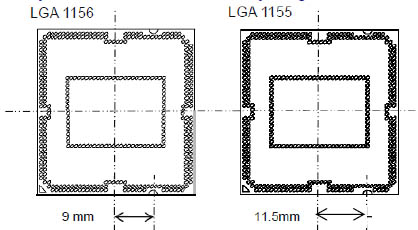 We didn't count the pins, but the socket-notch change is clear (source: Bit-Tech)
Yup - one short. But there are more differences between the LGA1156 and the upcoming LGA1155, according to Bit-Tech. For one, the socket notch and its corresponding processor cutout have been moved from 9mm off center in the LGA1156 to 11.5mm in the LGA1155 - a kindly caution to prevent incorrect matchups.
More important is the fact that Bit-Tech's sources tell them that the entire voltage-plane layout has been redesigned. Not as easy to determine with the naked eye, which makes that repositioned socket notch quite welcome.
Bit-Tech also notes that the mainstream 32nm Sandy Bridge parts will come in dual-core and quad-core versions, each having an on-die GPU, PCI Express controller, and memory controller, unlike the separate-die-in-the-same-package kludge transitionary design of the Core i5 and Core i7.
Like those two existing mainstream Core chips, the new procs will support Intel's Hyper-Threading and Turbo Boost technologies. Target TDPs are 65W and 95W - with the quad-core part having the higher power needs. Obviously.
As expected, the new chips' southbridge chipsets won't have USB 3.0 support - and although Bit-Tech declined to opine as to whether Intel's Light Peak optical connectivity will be supported, we'll offer the opinion that it's too early for such support.
Other chipset details revealed by Bit-Tech's sources include 6Gbps SATA support, the Matrix RAID Storage updated to version 10, 10 or 14 USB 2.0 ports depending upon the chipset model, Blu-ray support, and more.
In addition to these mainstream parts, Bit-Tech also discussed the "Enthusiast or Extreme, take your pick" Sandy Bridge E Patsburg platform, due in Q3 of 2011. Forget the LGA1155 (or the LGA1366) for this guy - its four-channel DDR3 memory controller and PCI Express 3 support will require a "huge" socket tentatively titled the LGA2011, which Bit-Tech wisely notes is a "dubiously convenient" name in light of its launch year.
The southbridge chipset for this heavyweight will support two 3Gbps SATA ports and ten 6Gbps SATA/SAS ports. Bit-Tech's sources differ on the core counts of the procs going into this platform, with one saying four-core and six-core parts, and another saying that an eight-core part will also join the party. ®