Probe uses solar panels to 'surf' Venusian atmosphere
Space 'windmill' experiment sifts boiling acid clouds
European space boffins are chuffed to announce that they have successfully 'surfed' the atmosphere of Venus, during a so-called 'aerodrag' experiment in which the solar panels of a space probe functioned as aerofoils skimming the top of the second planet's atmosphere.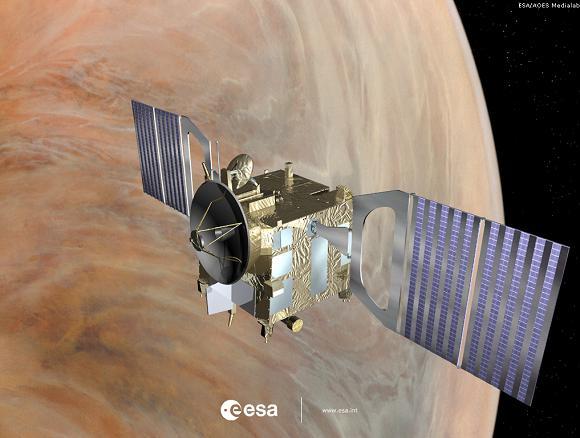 Above the Earth's "twin". A fairly evil twin, though.
The spacecraft in question is the European Space Agency's Venus Express orbiter, which launched from Earth on a Russian rocket in 2005 and reached its destination five months later in 2006. Since then it has circled high above the boiling, acidic clouds of Venus, sending back information on the mysterious world beneath.
Last week, however, ESA boffins decided to take a more active look at the thick and hellish Venusian atmosphere. Venus Express, hurtling through the thinnest, most evanescent topmost reaches of the turbulent planetary cloak, began to use its twin solar panels as aerofoils to generate a torque.
At first, one panel was held perpendicular to the direction of flight, while the other was gradually tilted. Then, as the trial progressed, both panels were brought into play. By last Thursday, one panel was tilted forward by 45 degrees and one back by the same amount: the two panels screaming through the thin upper Venusian atmosphere thus functioned as two-bladed hydropower turbine would in a stream of water from a dam, or 'like the vanes of a windmill', as ESA spokesmen put it.
Normally this would have caused Venus Express to spin about its axis just as a windmill does, but in this case the torque produced by the solar-panel propellor blades was counteracted by the spacecraft's internal "reaction wheels", small flywheels run by electric motors in order to control its orientation. As the pitch of the panels was increased, so the spacecraft's controls spun the reaction wheels harder to hold it steady.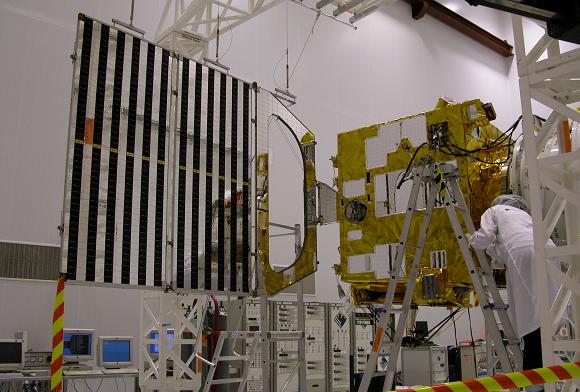 Dual-purpose: You can run a kettle in Venus orbit, or use it as a windmill planet-surfing aerofoil vane.
"The aerodrag campaign went without problem, and conclusively demonstrated that Venus Express can be securely and accurately used to sense the density of the planet's atmosphere. Venus Express has shown once again that it is a very capable satellite," said ESA space ops chief Octavio Camino.
In normal times the gallium-arsenide panels of Venus Express, 5.7 square metres in total area, can generate as much as 1400 watts of power - approaching the amount needed by an electric kettle. This capable performance (for that amount of solar cells) results from the fact that the spacecraft doesn't suffer from being in an atmosphere - and, being handily situated off Venus, is significantly nearer the Sun than normal terrestrial installations as well.
Camino and his fellow boffins intend to analyse their Venus-surfing windmill propellor results in order to carry out more ambitious, deeper excursions into the second planet's atmosphere in future. The ESA states that these would be of "immense interest" to planetary scientists, as Venus - though very different from Earth in environment - is often described as a "twin planet" to humanity's home, being similar to Earth in size and gravity.
There's more on Venus Express from the ESA here. ®