This article is more than 1 year old
Canon EOS 550D DSLR
The semi-pros' second camera?
Review The arrival of Canon's EOS 550D has been a rather pleasant surprise as, besides being a respectable 18.1Mp stills camera, it also shoots video at a quality that is comparable to the more expensive and technically superior EOS 7D. While the EOS 550D lacks two engines to power the data processing – so it can't match the 7D's blistering 8fps stills capture rate – it does have a sufficient low noise capability to allow you to shoot in low light without having to worry about it.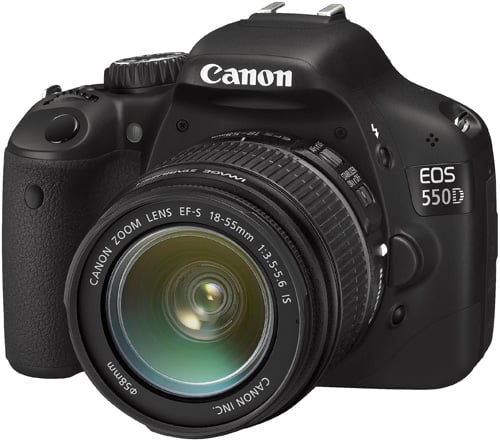 Raising the bar: Canon's EOS 550D
Another marked difference from the 7D is the body, which is plastic rather than alloy. Hence, it trades that air of professional ruggedness for a more compact form factor. In adult hands it does feel small and, with a heavy lens on the front, it definitely feels out of balance.
Essentially, a stripped down version of Canon's semi-pro cameras, the EOS 550D is up a notch or two from entry-level and is certainly far from basic. Indeed, it has the same 63-point metering of the 7D. Yet the EOS 550D is a fine example of how easy Canon has found it to keep adding megapixels to each of the previous incarnations to keep punters interested.
The EOS 300/350/400/450 and the 500D models all have been the starting points for people both keen and curious about DSLRs. Undoubtedly, once mastered, these lower price point DSLRs are a great stepping stone into the luxury of feature laden, semi-pro products. After all, once bitten, these folk will eventually buy prime lenses and work their way onto the semi-pro cams like the 7D and beyond.
If you're familiar with the higher end models, then one thing that you would bemoan is the absence of second dial for dealing with aperture adjustments and scrolling through menus. For instance, in Manual mode – where you alter both aperture and shutter speed – access to functions is achieved by first pressing down the AV +/- button and keeping it held in. Then, use the wheel under the shutter release to change the parameters. After a while you start to remember to do this, though it isn't instinctive straight off and does involve a slight pause, because the camera has to come away from your face to initiate these changes.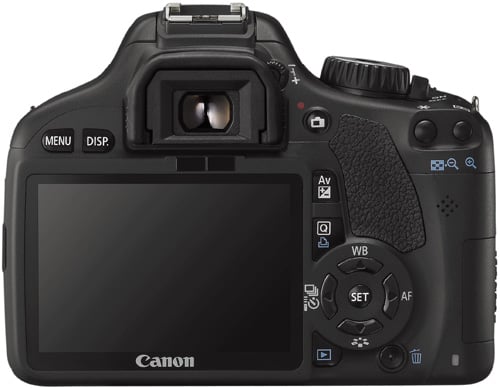 Dial out: with no data entry wheel on the back, parameter tweaks aren't so instinctive
Another gotcha is the white balance. You do get the usual six presets, but the custom setting is set from a recorded image, rather than being able to dial in Kelvin as you can with models further up the EOS range. This is not an insurmountable issue though, as you can sort it out in post, do a custom white balance using an image stored on the card or, better still, be more careful with how you light things.