This article is more than 1 year old
US Airforce secret spaceplane launched successfully
Other countries: Count your satellites
The US Air Force successfully launched its pocket-size X-37B robot space plane into orbit last night, on a mission whose nature and duration remain classified. With the imminent departure of the Space Shuttle, the little wingship will soon be the only orbital craft capable of runway landing - and perhaps other things.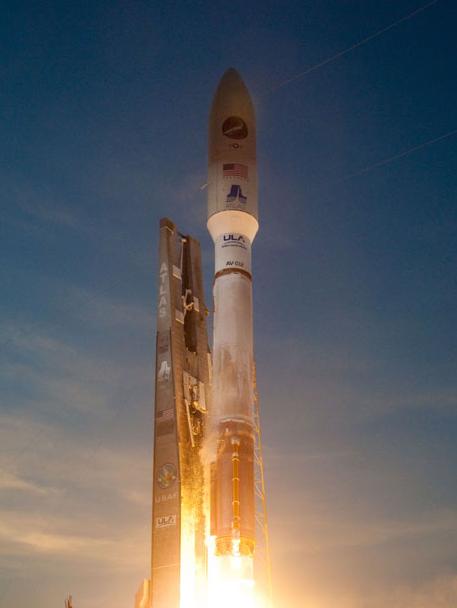 The X-37B disappears into the black.
The X-37B took off inside a payload fairing on top of an Atlas V launcher from Space Launch Complex 41, part of the Cape Canaveral Air Force Station rather than NASA's co-located Kennedy Space Centre, at 01:52am UK time this morning. United Launch Alliance, providing the launcher, said the takeoff was successful.
All details of the X-37B's mission are classified, though the air force did say it intends to use the little spaceplane to develop "concepts of operations" for re-usable spacecraft, and that this first mission will be mainly about seeing whether the craft itself works properly. Officials have also suggested that they are as interested in how fast the wingship can turn around between missions as in what it can actually do in space.
Being unmanned and equipped with a deployable solar array - unlike the shuttle which used fuel cells for electric power - the X-37B could spend much longer periods in orbit. The Air Force says it could stay up for 270 days at a time, before making a completely autonomous re-entry and lfying down to a runway landing at Vandenberg airforce base in California.
But as the X-37B, unlike the space shuttle, does nothing much towards getting itself up into space the only reason to use it - as opposed to a normal satellite sent up on an Atlas V - is for its abilities in descending to Earth. This could be handy, perhaps, in bringing back US military space hardware such as spy satellites for re-launch, repairs or upgrades, rather than the usual practice of burning them up in the atmosphere once their supplies of manoeuvring fuel run low.
The X-37B is far too small to retrieve most existing US spy satellites, but it might be merely a prototype aimed at bigger things - or at supporting the trendy new F6* "fractionated" or "swarm" satellite concepts, which would use groups of small spacecraft rather than large single units. The latter idea seems likelier, as a second X-37B has already been ordered.
Even so, a craft with somewhat delta-shaped wings like the X-37B and the Shuttle wouldn't be necessary in this role. Other designs - straight stub wings, or a lifting body - would still be capable of runway landings and thus quick, economical turnarounds; and they would save the weight of heatshielded delta wings.