This article is more than 1 year old
Porky Visual Studio way over the hill
Code Bubbles, not bloat, for .NET and Java
So, Microsoft has released Visual Studio 2010. The latest incarnation of Visual Studio had a difficult gestation, with critics pointing to the slowness and instability of the beta release.
Installation was an eye-opener: the 2GB ISO was quicker to download than it was to install - not even counting the several reboots required. When moving files around locally takes longer than downloading them over the net, something's gone seriously wrong.
But were the result and the waiting finally worth it? Hardcore Windows C++ developers will welcome the new release, and Java developers will doubtless be heartbroken to miss out on the 2GB download. But the main focus is .Net, and .Net is an also-ran. Serious systems work will continue to demand Java and C++, leaving .Net bouncing merrily on its Silverlight kiddie-cloud. Seriously, if you want to create a server-side system with demanding performance and scalability requirements, you just don't use .Net.
For everyday use, Visual Studio 2010 is pleasant enough. Open up a C# Windows Forms project and you can drag-and-drop components onto a visual form. But the problem I have here - and this isn't just a criticism leveled solely at Visual Studio; it's against all the modern IDEs out there - is that this is not so different from what we were doing with the first version of Visual Basic 19 years ago. Somehow, Microsoft managed to fatten Visual Studio up to porcine levels and yet using the product feels like you're trapped in the 1990s.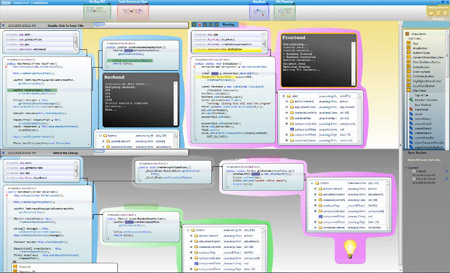 Can you tell what it is yet? Eclipse hidden by Code Bubbles
Java IDEs suffer from the same problem, to an extent. IDE evolution has become a game of feature creep, each new release touting bold new features, drawing in concepts well outside an IDE's core competency - half-baked UML support springs to mind - and packing it all into a single frame. The notion of "doing one thing, and doing it well" has been laughed out the window.
And the reason for this stagnation of innovation in the IDE space? The industry leaders have become portly, comfortable, and middle-aged. Eclipse is smoking its logical representation of a pipe, content to let plug-in developers pad out its ecosystem. NetBeans plays perpetual catch-up while its fate is decided for it. IntelliJ no longer sells itself on productivity, having fallen into the "feature checklist" trap.
The time is ripe for a brand-new contender to stroll in with something fresh and steal developer mindshare from beneath the leaders' pipe-yellowed moustaches - just as a young Eclipse once did to NetBeans.