Boobquake fails to destroy planet
Jubs versus Iranian cleric: Immodesty vindicated
---
Planet Earth has not (yet) been destroyed by today's terrifying Boobquake experiment - one Indiana student's response to Iranian cleric Hojatoleslam Kazem Sedighi's insistence that immodestly dressed women provoke earthquakes.
Sedighi recently declared: "Many women who do not dress modestly ... lead young men astray, corrupting their chastity and spread adultery in society, which increases earthquakes."
Well, Jennifer McCreight decided to put this to the test, and attempt a critical mass of immodesty primarily involving a load of women flashing a Richter-tempting amount of jub.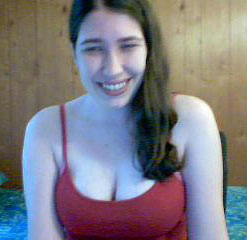 She declared: "On Monday, April 26th, I will wear the most cleavage-showing shirt I own. Yes, the one usually reserved for a night on the town. I encourage other female skeptics to join me and embrace the supposed supernatural power of their breasts. Or short shorts, if that's your preferred form of immodesty. With the power of our scandalous bodies combined, we should surely produce an earthquake."
McCreight's picture speaks for itself, and thousands of other females have thrown their weight behind the effort to either provoke a major catastrophe or prove that Iranian clerics have a poor grasp of the fundamentals of plate tectonics.
McCreight's earth-moving efforts can be followed on Facebook and Twitter. ®