This article is more than 1 year old
Ten Essential... Netbook Accessories
Mobility to the max

Pakuma eco2bag netbook sleeve
With netbooks now costing £300 or more, they can't be regarded as disposable purchases so you're going to need a decent sleeve to keep it safe and sound. Some makers do supply slip cases but these are more dust covers than anything else. Altogether more serious is the eco2bag from Pakuma, which has a robust splash-proof exterior and heavily padded interior both made entirely from recycled plastic bottles. The nylon zip is a tough old Hector too. How much protection does the eco2 offer? Well, I inadvertently sent a Dell Mini 10v pirouetting all the way down the access steps from the door of an Airbus A320 onto the tarmac at Doha airport and when I opened the case up the Dell was still intact. Available for 10.1in netbooks, the eco2 also has a handy exterior slip pocket. At under fifteen quid, it's an essential purchase.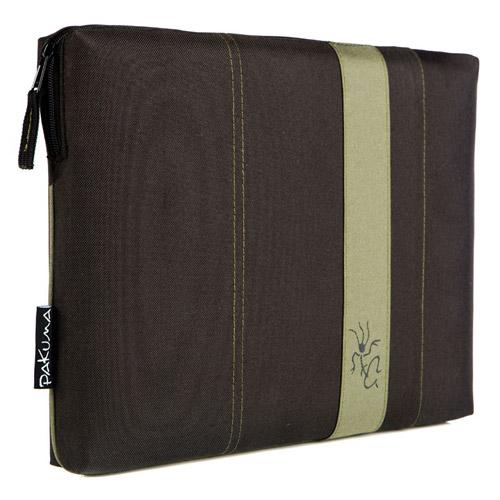 Reg Rating 95%
Price £13
More Info Pakuma

Philips Notebook Soundbar
If you plan on using your netbook as a media player then you need one of these because, take it from me, no matter what netbook you have - even Samsung's "media-optimised" N120 with its 1.5W sub-woofer - the speakers will be more than a little Barry White. Sit the Soundbar on top of your laptop lid, tighten the central rubberised grib, uncurl the USB cable, plug in and - bingo - instant hi-fi. As a convenient and portable sound source, the Soundbar takes some beating, while the clever positioning means you can use use it slobbed out on the couch or in bed without strangling yourself with wires. The Soundbar may have been designed with full-sized laptops in mind but it sits atop a 10in screen perfectly and is light enough not to tip your netbook over unless the screen is canted right back. For an ultra-portable speaker system the sound isn't half bad either with reasonably firm bass, a generally coherent and focused mid-range and no breakup in the higher levels even with the volume at maximum. It even makes a fair fist of stereo separation.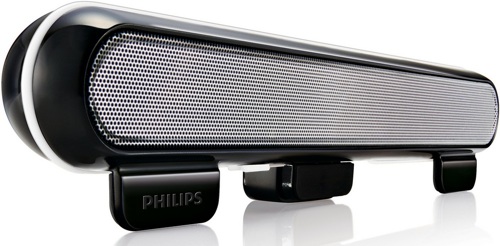 Reg Rating 80%
Price £50
More Info Philips