Tiny, exceptionally toxic "phantasmal frogs" - of a type used by jungle-dwelling blowgunners to poison their darts - have reproduced in captivity for the first time at a Portsmouth aquarium, in a triumph for British batrachian-breeding boffinry.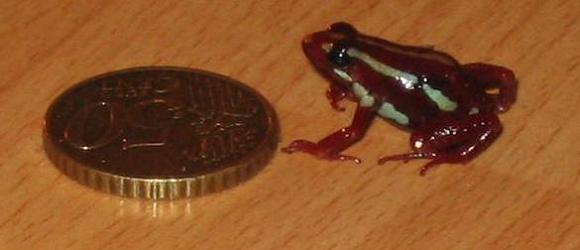 Rumours persist that when their darts ran out, Ecuadorian blowgunners would sometimes simply shoot frogs at the Conquistadores.
The <1cm Phantasmal poison frog, aka Epipedobates tricolor, is native to the western Andean slopes of Bolívar province in Ecuador. They are part of a group of amphibians known as "poison dart" or "poison arrow" frogs, from their supposed use by locals to produce bioweapon-coated projectiles of various sorts*.
E tricolor is of interest to scientists as it sweats a chemical called Epibatidine, potentially a painkiller 200 times as strong as morphine. According to Jenna MacFarlane of Portsmouth's Blue Reef Aquarium, Epibatidine painkillers could also avoid "addiction and other serious side effects".
But the diminutive drug-sweat dartgun frogs are becoming increasingly scarce in the wild, now being found in only seven places in Bolivia.
"These beautiful frogs are under increasing threat in the wild due to loss of habitat and pollution and we are delighted to have been able to breed them successfully here in Portsmouth," MacFarlane tells the Beeb today.
"It's imperative we are able to mimic exactly their wild environment in order for the species to thrive in captivity and it's a real achievement they are breeding so successfully," she enthuses.
"They've passed the critical stage of development from tadpoles into froglets and they now look like perfect miniature replicas of their parents."
Blighty appears to be becoming something of a world centre of excellence for breeding of deadly biotoxic frogs, with Scottish aquarists last year revealing that they had successfully reared even deadlier "golden arrow" examples, each of which according to the Beeb is able to "kill up to 200 people".
By a freak media coincidence, Michael Morris of Deep Sea World in Fife, describing his team's success to the Beeb last year, apparently used exactly the same words - verbatim - as MacFarlane did today. ®
*Though plant poisons such as curare are thought to be/have been at least as popular