Feeds and speeds on HP's Tukwila blades
Scale 'em up and out
If you are a shop that uses Hewlett-Packard's Integrity line of servers sporting HP-UX, OpenVMS, or NonStop operating systems (perhaps with a smattering of Windows and Linux), and you were excited about the prospect of putting quad-core "Tukwila" Itanium 9300 processors in the new Tukwila blades HP announced earlier this week, HP is not cutting thermal corners to build the blades. You are able to put the top-bin Tukwilas in the new servers.
El Reg was briefed by some of HP's top brass in its Business Critical Systems division, the part of the Enterprise Servers, Storage, and Networking group responsible for Itanium-based machinery, ahead of the unveiling of the Integrity BL860c i2, BL870c i2, and BL890c i2 blade servers, and in the hours before the launch (when our original story was written) none of the data sheets and specs were available. But they are now...
The Integrity BL860c i2 is a two-socket, full-height Itanium blade and it does not support all of the Tukwila chips. Only three of the five chips that Intel announced back on February 8 can be plugged into the box, but not for any technical reason. This is all about marketing.
Specifically, the BL860c i2 can be equipped with the 1.33 GHz Itanium 9320 (155 watts, the 1.6 GHz Itanium 9340 (185 watts), and the 1.73 GHz Itanium 9350 (185 watts). The BL860c i2's spec sheet quotes the Turbo Boost clock speeds for these three processors, which will no doubt be confusing at first to shoppers. But Turbo Core speeds are only available if some of the cores on the chip are deactivated.
HP is not supporting the 1.46 GHz Itanium 9330, the top-speed part running at 155 watts, or the Itanium 9310, a two-core version of the Itanium 9300 family that has only two cores and only 10 MB of L3 cache, but which costs a mere $946 and burns on 130 watts. HP does not explain why this chip is not an option, but clearly for some customers, the Itanium 9310 will be a better answer than these other chips, which range in price from $1,614 to $3,838.
The processors used in the BL860c i2 have to match, as they have to in all SMP servers, and if you want to use the Blade Link SMP scalability link on the front of the blades to lash together two or four BL860c i2 blades to make the four-socket BL870c i2 or the eight-socket BL890c i2, the processors similarly have to match. Just like they do in any other four-socket or eight-socket box on the market.
The BL860c i2 blade has 24 DDR3 memory slots, and at the moment only 2 GB of 4 GB DIMMs are supported; 8 GB DIMMs are available in lots of other machines, and 16 GB DIMMs are coming online too (although they are quite expensive) and it is a bit of a wonder why HP does not offer 8 GB memory for the new Tukwila blades right out of the chute.
Given the mission-critical and memory-hungry nature of the workloads, 8 GB memory sticks would seem to be necessary. At any rate, with 4 GB DIMMs, the BL860c i2 blade supports 96 GB of memory; it will double to 192 GB as soon as 8 GB memory sticks are supported and, presumably, the on-chip DDR3 memory controller on the Tukwilas can support 16 GB sticks, too, pushing memory per blade up to 384 GB. (If not, Intel has got some 'splaining to do.) If customers go cheap and use 2 GB memory sticks, double chip sparing (a kind of extra scrubbing on memory) is not supported. So, it looks like 4 GB memory sticks all around!
The base Tukwila blade comes with two dual-port Flex-10 10 Gigabit Ethernet adapters, which link out to the Virtual Connect switches in the box. The blade also has a 100 Mbit Ethernet port that is dedicated to the on-blade Integrated Lights Out 3 (iLO 3) service processor for linking into management software. The blade supports two hot-swap, 2.5-inch SAS drives (73 GB, 146 GB, and 300 GB) and has a two-channel SAS controller (with no cache memory at all) that will eventually support RAID 0 and 1, but at the moment just individually manages the disks.
If you want to link out to external storage, HP has a Smart Arrat P700M with 512 MB of cache that snaps into a mezzanine slot on the blade for linking to SAS switches in the c3000 and c7000 BladeSystem chassis or to external StorageWorks MSA disk arrays. HP also has a dual-port Fibre Channel mezzanine card for the blade for multipath links out to storage area networks. The BL860c i2 blade has three PCI-Express 2.0 x8 slots.
Obviously, as you snap two or four of these blades together for SMP expansion, the memory and I/O doubles and quadruples. But you do not have to fully populate each blade with Tukwila processors, according to the specs. So, for instance, a two-blade BL870c i2 can have 2, 3, or 4 processors (for 8, 12, or 16 cores) and the four-blade BL890c i2 can have 4, 5, 6, 7, or 8 processors (for 16, 20, 24, 28, or 32 cores). The ability to half-populate blades with processors means HP doesn't have to offer a separate SKU call the BL880c i2 to offer six-socket configurations.
The Tukwila blades can be plugged into the BladeSystem c3000 and c7000 chassis, thus: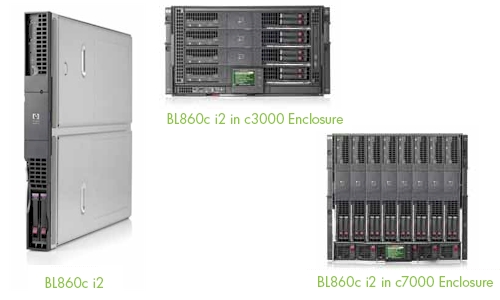 All three Tukwila blades require the March update of HP-UX 11i v3, HP's variant of Unix, and all four versions of the software - Data Center Operating Environment (DC-OE), Virtual Server Operating Environment (VSE-OE), High Availability Operating Environment (HA-OE), and Base Operating Environment (BOE) - are supported on the blades. Integrity Virtual Machines (Integrity VM) and Virtual Partitions (vPars) are both supported to virtualize these blades. No word on when OpenVMS, NonStop, Linux, or Windows support will be condoned in any of these machines, but HP is obviously working on it and El Reg is chasing it down.
The new Integrity servers are not sold through the HP online store where ProLiants are sold, and the place on the HP site where you should be able to buy them doesn't have pricing. The HP online enterprise configurator used by resellers has not yet been updated for the Tukwila blades, either. What HP said earlier this week is that a BL860c i2 blade costs $6,490 in a base configuration; a BL870c i2 costs $13,970; and a BL890c i2 costs $30,935. The BL860c i2 blade presumably comes with one 1.33 GHz Itanium 9320; it definitely comes with 8 GB of base memory and no disk. The base configurations of the other blades probably involve snapping two or four of these units together. ®