Handset also-rans create new mobile platform
Because what we need is another standard
Third-tier mobile handset manufacturers have banded together to make a new mobile application platform - as if the industry didn't have enough already.
DoCoMo, Renesas, Fujitsu, NEC, Panasonic and Sharp will be happy to licence the new application platform out to the rest of the industry, in case anyone feels that Android, iPhone, Symbian, Bada, Blackberry, WebOS, Windows and LiMo don't offer enough choice for the aspiring developer.
To be fair the as-yet-unnamed platform doesn't seek to replace any of these; it's supposed to sit on top of them and provide a standard API for accessing local resources. So it's a bit like the Joint Innovation Lab (JIL), but deeper and not backed by the two largest network operators in the world and their friends.
The new platform will initially sit on top of Symbian and Linux. Apparently the team is considering porting the platform to "open operating systems such as Android" - inferring a worrying belief that neither Symbian nor Linux are as open as Google's baby, but perhaps that's just a mistake of translation.
But the new platform will be sitting lower than the kind of widget platform proposed by the JIL, as it will "offer improved processing speeds for high-quality video and enhanced 3D graphics processing for advanced mobile multimedia functions". But this won't be until 2012 – right now it's just a picture: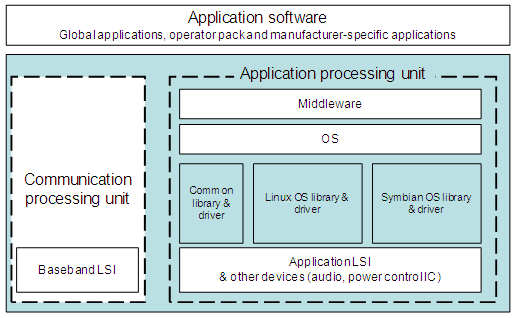 What the companies obviously have in mind is an API for creating branded interfaces, which can then be applied to Symbian and LiMo handsets just as HTC applies it's Sense interface across the underlying platforms. None are in the mass-market phone business yet, though Sharp is making Microsoft's Kin handsets and lined up to make the Else, a handset based on Access Linux.
Reducing development costs is sensible, but it shows just how chaotic the mobile industry is that even third-tier manufacturers want to avoid being tied to a single OS. ®