Comment Previously impressive Compellent unveiled its results for the first quarter with lower sequential revenues and a loss. The firm intends to grow its way out of trouble with a better-managed sales process and new technology.
Earlier this month Compellent surprisingly warned of lower revenues this quarter. In the last quarter of 2009 revenues increased as expected, but earnings fell short at $1.3m, and Wall Street severely punished the share price. This quarter the earnings problem has got worse, with a loss of $780,000 on revenues of $31.83m, which were lower than the previous quarter's $36.3m but still up year-on-year by $3.7m. Compellent's breakneck growth has stalled.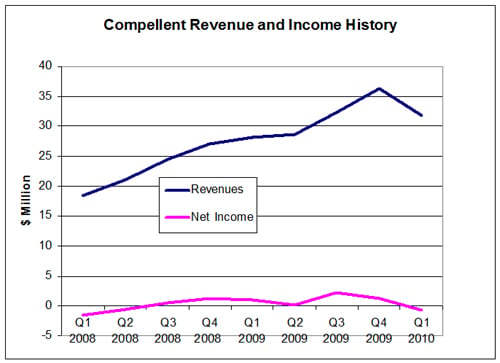 Along with sales execution issues, it appears that some large deals did not go ahead in this and the previous quarter. Compellent's channel faced increased pricing pressure from the competition, led by EMC, and had to drop prices or lose deals. The firm gained 130 new customers - respectable but not terrific by its standards - which indicates that it both lowered prices and lost deals.
Compellent had increased its sales and marketing headcount in line with anticipated growth and also increased its research and development headcount, so increased headcount costs met lower revenues and profit went to hell and beyond this quarter. The last loss was in the second quarter of 2008 - Compellent has buckled a little under competitive pressure.
Compellent marketing is pushing a fluid data concept, based on Storage Center's block-level automated data movement being storage tiers. Its competition is catching up with EMC's FAST, providing storage volume movement between tiers and sub-volume level coming. Both IBM and 3PAR have already announced that, and both Pillar and Dell/EqualLogic have data movement between tiers as well. So Compellent's advantage is being eroded somewhat, though it claims its technology is better.
Facing these sales execution, technology catch-up and pricing issues, what is it going to do to recover?
Two things: Compellent will introduce new products and manage its sales channel better. But it is not going to trim headcount - in fact it will do the opposite. In an earnings webcast CEO Phil Soran said: "We are committed to increase our investment in research and development, and sales and marketing."
The sales channel is being managed better, with focuses on lead generation, pipeline quality and channel development. Nothing major is being done - it's more that the whole sales process is being tweaked and tuned and getting looked at more often and more deeply. The current quarter should see more large deals than the first one and Soran mentioned frozen state and US government budgets being unfrozen but taking time to process the delayed orders.
Compellent sees the way forward as selling more kit, and a lot is being pinned on the new zNAS product that provides file access to the block storage at the heart of the Storage Center product.
The zNAS product couples Sun's ZFS filesystem with Nehalem processors to revitalise Compellent's previous Windows-based NAS-head offering. It's all about increasing the markets Compellent can sell into, both to new customers and to existing customers who should be able to expand the number of storage activities Compellent kit can be used for.
Soran said: "zNAS expands our addressable market ... The block base is bigger but the file base is growing faster ... We have a robust plan to roll out significant additional innovantion in the months to come. Our zNAS solution is the first in a series of announcements that will drive efficiency, data life cycle management, scalability and availability to new levels for end-users."
He says the next few quarters will bring product developments as exciting as anything he's known. There will be, he says: "technology innovation in connectivity and drives. On the software side we can take this single platform and extend it to more large clustered file [and] object storage, [and] cloud computing ... we can integrate with ... VMware, Microsoft and Oracle and other large vendors ... we can extend the data life cycle management that we're providing ... integrated on our Storage Center platform."
He singled out increased feature sets, scalability, performance and availability, saying: "It's going to hit all the bullets."
What does this mean? Are we looking forward to an archival storage function? Compellent is a member of an Active Archive Alliance, along with SpectraLogic, FileNet and QStar. The Alliance aims to promote the notion of active archive applications (FileNet, QStar) presenting a single online archive space with files on disk (Compellent) and tape (SpectraLogic). Is there going to be more integration here or a focus on a large SATA archive with, perhaps, spindown on drives to save electricity?
Soran mentioned objects, which suggests an object storage function is going to be layered onto Storage Center. Would that be Compellent-developed or done through partnership with a company such as Caringo, as Dell is doing?
He also mentioned clustering, and this would hit the scalability and availability buttons. The cloud market, with Savvis as an existing customer, is also going to be a focus and we should see additional features suited for managed service providers.
What about the efficiency item? Deduplication is a major facet of increased efficiency in long-term reference and backup data retention and that might be a feature Compellent could introduce. The company has its C-Drive annual customer and channel event next week and more may well be revealed there. We'll report on whatever comes out. ®
Similar topics