Pirate Bay co-founder hopes it will die
BrokeP on neo-Nazi links, Hans Pandeya and the 'big, bad' record industry
---
Meanwhile, the TPB four plan to appeal the 2009 verdict in the autumn, but the men are complaining with Swedish law officials about the date.
We're arguing because we can only do this before the election in Sweden on 19 September. We said any time between 1-14 September is OK. But they're saying it can't happen until 20 September, which is obviously for political reasons.
There are still issues that need to be resolved before a court date can be set for the hearing. The EU has to say that the eCommerce Directive is not applicable on TPB's case, which is a long process and the court has to wait for it. We're also waiting for the bias of one of the judges in the case to be solved as well.
Despite all that we're confident we will win the appeal. If we don't there'll be another appeal. So it's not really important, only from a political point of view.
As for the fines, the Swedish courts don't have jurisdiction because the servers aren't in that country now and nor are we [Sunde lives in Germany, while Neij and Svartholm Warg are somewhere in Asia currently. He didn't comment on the location of Lundström].
Anyway there's no money, we have debts of 50 million Swedish kronor.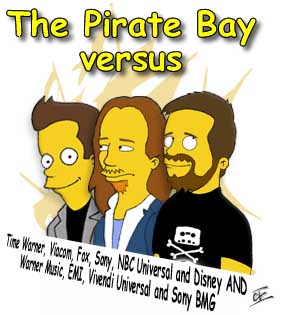 So where does Carl, who was linked to a gang of skinheads that attacked Latin American tourists in Stockholm in the mid-1980s, fit into the picture?
He doesn't. The thing with him is that he has a bad political background so he's on board, according to media, because he has lots of money and a bad reputation. It's like a smear campaign.
I don't like his background, I don't like people who are very right-wing, but he is actually married to a Jewish woman. How neo-Nazi can he be? He used to be that when he was 18 or 19, but 25 years later he's married a Jewish girl and has kids with her.
Lundström, who it's alleged owns 40 per cent of TPB after giving it servers and bandwidth via his ISP company to get the site up and running back in 2003, has switched his support from Keep Sweden Swedish to the far-right headbangers party New Democracy - but was thrown out for being too right wing. He has no plans to convert to Judaism anytime soon.
He is still very anti-religion. I don't know him that well but it's weird he's involved this much with TPB in a way … There are multiple reasons he's a bad guy according to the media: he is an ISP so he will scare other ISPs from hosting TPB and similar services, and he has money. So he's a target and he was just unlucky.
How much did he invest in TPB operations?
He wanted to invest in it but there was never a company set up, never an organisation. He never paid anything in the set up of TPB. There was no need for him to pay.
So he's not had any financial involvement whatsoever in TPB?
His company was a big donor by giving TPB an employee discount [to Neij, who has worked with Lundström] - that is the only connection and he gave that before he even knew of the site.
So what about the claims against the co-founders of TPB that alleged the men made money out of the operation?
I can't prove that I don't have a bank account somewhere with lots of money. And it's kinda the same for Carl, he can't prove he's not part of this if the media says he's part of this. We don't have proof for something we haven't done.