This article is more than 1 year old
Fujifilm Finepix S200EXR bridge camera
Taking a long shot
The rechargeable battery is easily good for a hard day in the field, piste, beach, firework display, actually, maybe not that last one. One niggle is that depressing the shutter or any button for that matter, doesn't rouse it from slumber. You have to turn it to the off position and back on again. Also you have to tell it to send a signal to operate an external flash. Does this save battery? Seems odd, but maybe most people would just rely on the very capable internal flash.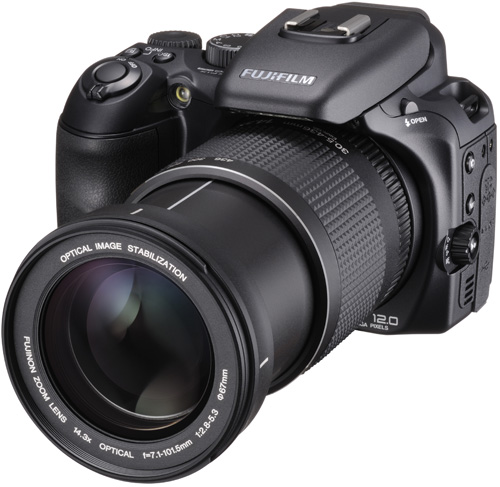 Bulky at full extension, but still a compact alternative to a DSLR with multiple lenses
It weighs the same as a DSLR with a kit lens on, but is a good deal cheaper and has more features to get you a decent shot every time. If you stick with Auto then, inevitably, the flash will pop up in low light, even so, you will still get a shot out of it, which should keep most customers satisfied.
If subdued light shots are the order of the day, then use a tripod rather than rely on the image stabilisation and take advantage of the Pro Light mode feature. Without these types of options, the noise handling above ISO 800 is just a bit too gritty.
Verdict
While a brighter lens would be desirable it would push the price far too high, however, this camera has some neat tricks to compensate in different environments. Nevertheless, the sort of user the S200EXR really suits is the nature and landscape photographer who'll tend to have sufficient available light to avoid high ISO settings and too much reliance on image stabilisation. Indeed, the convenience of not having to carry multiple lenses shouldn't be overlooked. And for those with a sense of nostalgia, the Fuji film emulation modes add a certain something that is really good to see again. ®
More Camera Reviews…

Samsung
WB5000
Canon
Powershot G11
Panasonic
Lumix
DMC-GH1
Sony
Cybershot
DSC-HX1

Fujifilm Finepix S200EXR bridge camera
Versatile superzoom with classic Fuji film emulation modes.