Dead to Rights: Retribution
Dog's dinner?
Review To witness your father murdered once is unfortunate, but to witness him murdered twice is downright careless.
This glaring paradox might not be lost on you, but it appears to have escaped the developers of Dead to Rights: Retribution. You see, the trigger for the vengeful bloodbath you exact in Retribution is, well, identical to that of the very first Dead to Rights, namely the cold-blooded murder of your father.
Take aim…
This gaping oversight (or just the failure to explain it) is indicative of a lack of attention to detail that abounds in Namco Bandai's latest Dead to Rights game.
You'd think that by borrowing plot devices from innumerable good cop, bad city movies, such as The Gauntlet and Assault on Precinct 13, along with game mechanics from (among numerous others) Oni, Unchartered and Batman: Arkham Asylum, Volatile Games would have been free to concentrate efforts on graphics and gameplay.
It hasn't - at least not in the early sections of the game.
The dullness and mundanity of the graphics in Retribution's early levels are matched only by the crudeness of its run and gun gameplay. Endless flat, poorly animated and blandly characterised enemies stream out of every flat, blandly textured corridor and alleyway
Sparing little time to establish a semblance of a plot, and without any real objectives, these early levels serve only to introduce newcomers to the gun fu principles of the Dead to Rights franchise.
In support of this, your character, quintessential schlock movie cop Jake Slate, rarely starts a level packing heat, preferring instead to disarm enemies during hand-to-hand combat. The developers have at least made this an easy one-button pull-off, which never fails. What does fail, is the actual hand to hand fighting.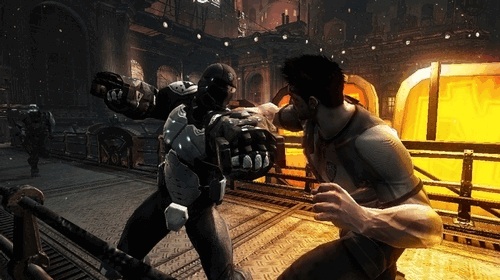 Punch Drunk