Data Locker 1TB AES-encrypted external hard drive
Lock up your datas...
The Data Locker ships with as an NTFS drive, and it was tested with CrystalDiskMark 2.2 as such. It showed slightly better read performance, slightly worse write performance than other 2.5in external hard drives reviewed of late. Random write performance was particularly poor - an effect of the on-the-fly encryption, presumably - but that's unlikely to trouble you if you're using the drive to archive data, which is what it's for.
CrystalDiskMark 2.2 Results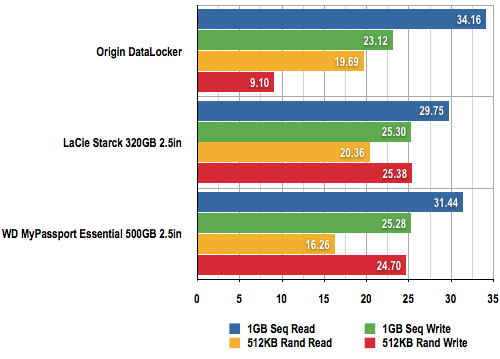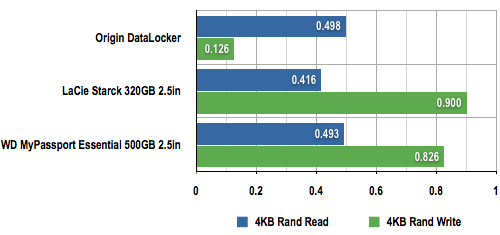 Data transfer speeds in Megabytes per Second (MB/s)
Longer bars are better
Security doesn't come cheap: the 1TB Data Locker Enterprise will set you back £551, with 750GB, 500GB and 320GB models coming in at £422, £351 and £293, respectively. Settle for 128-bit encryption and you'll pay £469 (1TB), £351 (750GB), £281 (500GB) or £212 (320GB). That's a mark up of £300-400 for the encryption over a standard 2.5in, 1TB external hard drive that you can encrypt for free using the open source AES-256 utility TrueCrypt.
Verdict
Whether you think that's a premium worth paying will depend entirely on your degree of paranoia, or the importance of the data you plan to store on the drive. Data security is good - just ask anyone who has lost a Ministry of Defence laptop - but the Data Locker seems a tad overpriced. ®
More External Storage Reviews

Buffalo
MicroStation
WD
My Book
USB 3.0
IoSafe
Solo
Freecom
Secure

Data Locker 1TB AES-encrypted external hard drive
Expensive but highly secure and password-protected external hard drive.