This article is more than 1 year old
Cambridge Audio Azur 650BD
The Blu-ray player for audiophiles?
Review Blu-ray players are becoming increasingly cheap, but many of them still lack features found in modestly priced DVD players. If, like me, you invested in 'high definition' audio formats, such as HDCD, Super Audio CD (SACD) or DVD Audio, then it's frustrating to find that, unless you spend several thousand pounds, you'll still need to keep your old player for those formats. However, Cambridge Audio's Azur 650BD player may well be the answer.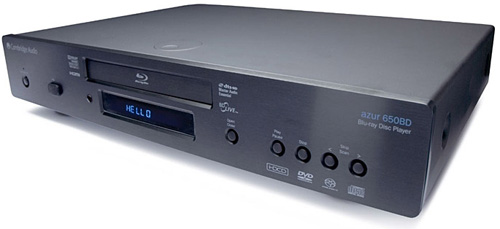 Multi-media player: Cambridge Audio's Azur 650BD
While by no means the cheapest Blu-ray player I've seen, the Azur 650BD is one of the most solidly built, and well-connected, with an impressive array of format support. The unit is a standard hi-fi component width, with a thick metal front panel and feels very sturdy. The front sports a VFD display – which can be dimmed, thankfully – five transport buttons, power and a rubber bung that'll soon be lost, covering a USB port.
On the rear there's another USB port, and enough socketry to cover almost every eventuality. Besides the expected HDMI and Ethernet, there's an additional USB port, component, composite and S-Video outputs, optical and coaxial digital audio and 7.1 analogue audio. All that's really missing is a dedicated stereo audio output.
The remote feels substantial, and sits in the hand well, though it's not backlit. Despite the presence of some buttons for AV source and volume, those only work with other Cambridge Audio equipment, rather than being universally programmable.
Setting up is straightforward. I tested the 650BD first with an HDMI connection to a Panasonic TV, and optical digital audio to the surround system. When you power up for the first time, there's a wizard that helps set the main options such as screen type – including allowing 4:3 material to be shown with black side bars – so you don't have to dive too much into the menus to get going.

Just about all the connections you're likely to need, for audio and video
Blu-ray playback is good, nicely detailed, and DVDs upscale well too. For tweakers, there's a picture settings menu that allows you to adjust hue, saturation, brightness and contrast.