This article is more than 1 year old
Cambridge Audio Azur 650BD
The Blu-ray player for audiophiles?
There's BD-Live support, and 1GB of internal memory too, so no need to take up either of those USB ports. In terms of startup time, the 650BD is fast in comparison with others we've tested, clocking up 1min 23secs on my test disc that accesses BD Live content.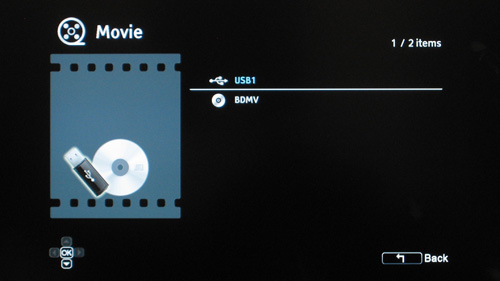 A simple browser pops up when a data disc is inserted
Less complex discs that launch straight into the film will be swifter, of course. Indeed, BD-Live worked on one of our test discs; on another it didn't play the online movie trailers – though those use so much bandwidth, most people won't get smooth playback anyway.
There are no other network media playback facilities but the USB ports do allow playback of material from FAT32-formatted drives. I tested with a USB flash drive, and AVI files played back fine, including low-resolution web clips, SD Xvid and DivX HD.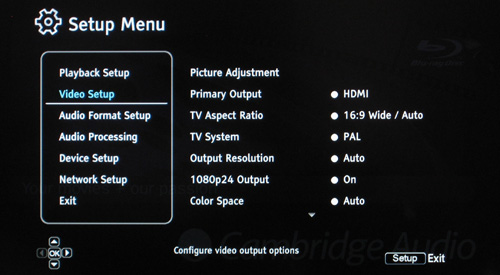 The setup screen can be reached even when a disc is playing
The 650BD also plays MKVs, but despite the specs claiming WMV support, didn't show those in the file browser. AVC HD is supported too, as are JPEG images, MP3 and WMA audio, but not AAC. Clips can also play from a data disc, but CDs aren't fast enough for MKV playback.
Audio is probably the main reason many people will opt for this player over others. For movie playback, all the latest formats are supported, including lossless Dolby and DTS, and the audio configuration screens are fairly comprehensive.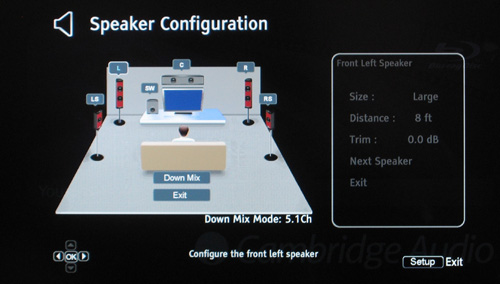 The speaker configuration screen helps you adjust the audio output easily
You can specify a downmix from 7.1 to 5.1 or stereo, and the speaker setup allows you to indicate how far speakers are from the seating position, and whether they're large or small – which helps control bass handling. The digital output can be set to bitstream or PCM, and for the latter you can choose 48, 96 or 196KHz rates, to match your external equipment.