This article is more than 1 year old
Indie music mogul: The net's great for us
Beggars boss Martin Mills
Interview Beggars Group office in a suburban street in Wandsworth doesn't look much like a media corporation. There's no chocolate ice sculpture in reception, and no giant video screens or inspirational slogans. It does look a lot like you'd expect a real independent record company to look, though: behind the receptionist's desk is the kitchen sink. Boxes of records are strewn everywhere. Chairman and founder Martin Mills sits in the cramped, buzzing open-plan office, along with everyone else.
And there's something else unusual. Here's a group of record companies that are doing well, both critically and commercially, which think the internet has helped them to this success, and can't wait for the future to get here.
Beggars' four labels XL, Rough Trade, 4AD and US stalwart Matador Records scooped up a fifth of the Times Top 100 records of the decade. The company recently scored the first indie number one for twenty years (Vampire Weekend), looks to have the critics choice for 2010 sewn up (Gil Scott Heron), and with The Xx has a band whose music suddenly seems ubiquitous, sprouting from every trailer and advert, as well as the BBC's Election coverage.
Mills himself resigned from the BPI "years ago" and helped set up two powerful industry groups as a counterweight to the major labels: the Association for Independent Music (AIM) and Impala, a Brussels-based business network of companies and trade associations. Impala was crucial in persuading the Courts to overturn the European Commission's decision to bless the Sony BMG merger. The collective licensing group Merlin, sometimes called a 'fifth major', also owes much to Mills' desire to give more strength to the indies at the bargaining table.
The Beggars setup is also quite unusual, a bag of apparent contradictions. Mills still signs every cheque, and watches the weekly cashflow, but the labels, such as Richard Russell's XL, have a lot of freedom. The core of the Beggars Group is an operations unit for the labels, but he doesn't do budgets or ask the labels to do them for him. It's impossible to predict how music will sell, he says, so why waste the time? In a business that became increasingly populated by suits in the 1990s, this is very unusual.
Mills spends a lot of time thinking about how to make money, but his distaste for "music corporations" is matched by concern about the "corporatisation of the individual". You can't imagine a New Media Strategist setting foot in the place, or surviving very long if they did. People work at Beggars for the love of music, and are good at finding it and promoting it.
So there's a lot of reasons to pay attention to Beggars, and Mills' thoughts on the future of music. We had a very wide-ranging interview last week covering everything from digital marketing to the Digital Economy Act. A few facts first, though.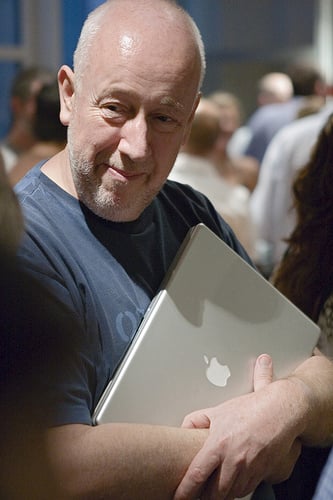 Martin Mills. Credit: Music Ally
The Beggars Banquet label grew out of an Earl's Court record shop in 1976. Three years later it had picked up Tubeway Army, and found itself with a global pop star. But unlike other indies of the era it didn't embark on overnight global expansion. This may be why unlike other contemporaries such as Stiff, Rough Trade or Factory, it survived. 4AD was launched in 1979, XL a decade later. It picked up Matador in 2002 and Rough Trade three years ago.
The group now employs around 130 staff worldwide. Between them, the labels invest in 20 new acts a year. Digital revenues are around 50 per cent of the total, far higher than the industry average. The Vampire Weekend number one sold 126,000 in its first weekend, of which 70,000 were digital downloads. In the UK digital is about 20 per cent (up to 30 for new releases, says Mills) while in Europe the ratio is much lower.
There's also a distinctive profile to the success: Beggars' labels are much better at selling full-length albums.
"We are four times as likely to convert a fan into an album buyer, rather than a track buyer. It makes a fan that we engage worth ten times as much to us. If you look at The Xx album, they're selling three tracks for every album, a 1:3 ratio. The industry average is more like 1:10 or 1:12."
The internet has improved things radically for independents, something borne out by the US success, with its more mature digital market.
"The 40 per cent of the industry that has gone is almost entirely the cream at the top"
"There's fewer gatekeepers now. We don't have to knock on a TV station's door or a radio station's door and it's made us far more competitive. We released the MIA film yesterday and within minutes, it was everywhere. We didn't have to go through a process to try and persuade someone to give it an exclusive. Our ability to get the message out without intermediaries is unencumbered," he says.
"There's a wide highway in front of us we can go speeding down, and it wasn't there even two years ago. It means the majors are looking at a world where only 35 Gold Albums a year are certified compared to ten times that recently. But going above Gold in the US is not a problem for us."