The US Air Force - perhaps the keenest of America's armed forces to get stuck into network warfare - has unveiled the cyber "wings" which will be worn on the chests of its digital warriors.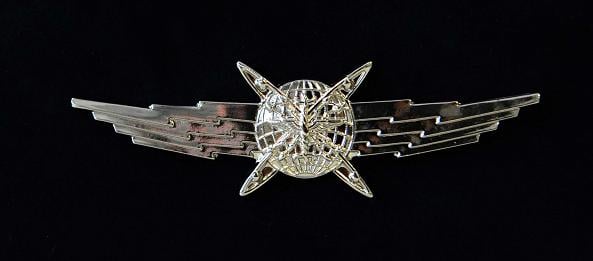 Cyber wings upon their chests/These are men**, our geekiest
The new "Cyberspace Badge" features lightning-bolt wings extending from a central globe encircled by orbiting blobs - presumably surveillance or communications satellites - and a heraldic thunderbolt with ordinary feathery wings stuck on the front.
Apparently this symbolises "the projection of cyber power world-wide", "the space dimension of the cyberspace domain" and "striking power through air, space and cyberspace".
It seems there will be Basic, Senior and Master Cyberspace Officer badges. They will be as coveted and difficult to earn as any other US military adornment: for the moment, holders of the existing "communications and information" badge can win their cyber wings by completing the no-doubt-fearsome "X-course"*, being awarded the same level of cyber wings as they previously had comms-and-info ones. Alternatively any officer who has done the X-course and has "at least one year of cyberspace experience" since 2006 can badge up too.
For now the cyber wings are for officers only: "eligibility criteria for enlisted personnel are slated for release in a future message", according to a military statement.
"The Air Force mission - to fly, fight and win in air, space and cyberspace - acknowledges the significance and interrelationship of our three operational domains in effective warfighting," said major-general Michael Basla of Space Command, which is in charge of the airforce cyber arm.
"The establishment of the Air Force Cyberspace Badge underscores the crucial operational nature of the cyberspace mission," added the general.
For now the 24th Air Force, the new operational cyber organisation, is still setting up. By the end of this year it is expected to include some thousands of cyber warriors, many of them no doubt wearing cyber wings pinned proudly to their grubby heavy-metal T-shirts.
Or conceivably not. Wired Magazine's defence editor, surely a significant moulder of opinion in US military geek circles, has dubbed the new badge "kind of lame" and stated that it sucks. ®
Bootnotes
*Also known, less impressively, as the Distance Learning Cyberspace Operations Transition Course.
**Maybe not that many women in this branch.