Netbook sales shrivel in face of Apple iPad
44% of tablet fanbois don't need keyboard
---
A new study indicates that the Apple iPad will shrivel the netbook market.
Fortune points us to a March study from financial house Morgan Stanley and research outfit Alphawise that says 44 per cent of US consumers planning to buy an iPad will opt for the Jobsian tablet instead of new netbook or notebook.
As you might expect, the study also indicates the iPad will eat into sales of the iPod touch, a, well, smaller version of the iPad. According to the study, 40 per cent of future iPad buyers will shun the iPod touch.
Meanwhile, 28 per cent said they would buy an iPad rather than an ereader, and 27 per cent they choice the tablet instead of a destkop.
Separate Research from Morgan Stanley and NPD shows that netbook sales growth dropped precipitously in January, from 179 per cent the month before to 68 per cent. The financial house attributes this to the announcement of the iPad. But it's January data dates to about two weeks before Steve Jobs unveiled "magical and revolutionary" device, and netbook growth had been steadily falling since it peaked in July at 641 per cent. Plus, we can't help but wonder if the netbook market was simply approaching a saturation point.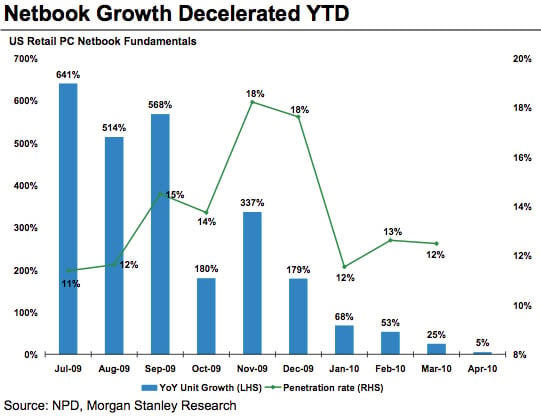 Netbook growth not growing
That said, hefty rumors of the iPad predate Jobs' announcement by several months. And netbook growth has shrunk even more since the announcement. In April, when the iPad actually launched, growth was down to 5 per cent. ®