Review "A new version of Iomega Storage Manager is available," the app announces on launch. "Click here to download it." And then it "quits unexpectedly", as Mac OS X politely describes the event, although this happens every time you run it. Click for the upgrade and install it, and the same message about a new version being available pops up. And the app quits "unexpectedly" again.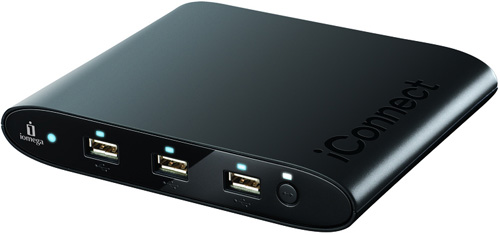 Iomega's iConnect:
This was my less than reassuring introduction to Iomega's iConnect Wireless Data Station. A Nas device, which is essentially what this is, shouldn't need proprietary set-up software, but Iomega provides its Storage Manager - versions for Windows and the Mac - to make it easy to find the device on your network and get you started with the web control interface through your browser.
I switched to the Windows version of Storage Manager - which at least runs stably - and got the same story about an upgrade being available. As with the Mac, the "upgrade" you download and install is identical to the version supplied on the bundled CD. This otherwise minor hitch gets a mention because it seems to characterise a certain general lack of care that pervades the whole product.
Oh, the industrial design is good enough: a sleek black box you could just about fit in a large jacket pocket, with some useful LEDs that monitor the overall health of the machine and the status of the individual USB ports. And the specs are impressive: along with its function as a SMB/CIFS and AFP filesharing Nas, it's also a UPnP, DLNA and iTunes server, and can download BitTorrents.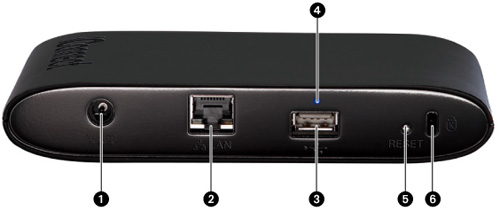 Round the back: the power point (1), Gigabit Ethernet port (2), an extra USB socket (3) with its status light (4), the reset button (5) and the Kensington lock point (6)
No self-contained storage, but it's easy enough to hook up USB drives - memory sticks or rotating disks - to any or all of the four USB ports. You can attach up to two USB printers in the same way as storage devices, making them available across your network, and also arrange the iConnect automatically to transfer photos from your camera. The connection to your LAN is Gigabit Ethernet or 802.11n wireless. And all running at just 5W. On this basis, and at the price - in the region of fifty quid on the street - you'll want one.
Similar topics