Apple iPad
It's in our hands - should it be in yours?
With the Wi-Fi connection working more smoothly, I soon began to really enjoy using the iPad. I've always found my iPod Touch too small for browsing the web or reading e-books, but the 9.7in screen of the iPad seems just about the right size.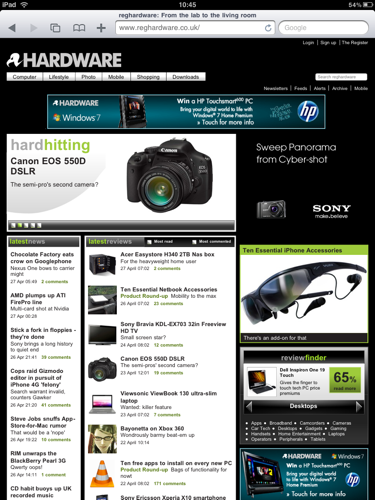 Surfing is a joy
The image is bright and clear, and the panel provides virtually 180° viewing angle. It's small enough to hold comfortably, yet still large enough to view and read complete web pages without needing to zoom in on the text at all.
The on-screen keyboard is more comfortable to use than it's iPhone equivalent too. I'm not sure I'd want to use it for proper word processing – that, presumably, is what Apple's forthcoming keyboard dock accessory is designed for – but it's fine for tapping out notes and emails. It'll be interesting to try out the keyboard dock, along with the iPad version of Apple's office suite, iWorks, when they're released in the UK.
Other apps also benefit from the iPad's larger screen, with redesigned interfaces that make it easier to organise and view large numbers of files. The iPod app looks much more like the full PC and Mac versions of iTunes, displaying music, video and playlists in a Library panel that runs down the left-hand side of the screen – though it's bizarre that the iPad can't display album artwork using the Coverflow mode that is available even on the thumbnail-sized screen of the iPod Nano.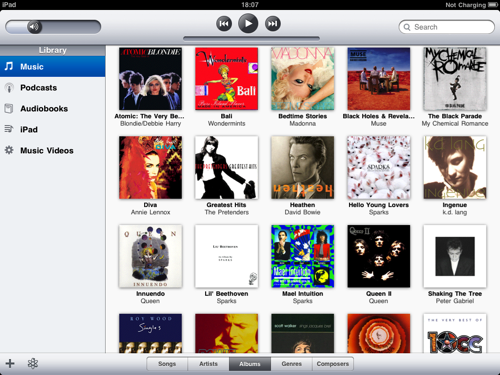 Wot no Coverflow?
The Mail app has a similar interface, with the contents of the inbox running down the left-hand side of the screen, and individual emails displayed in full beside the inbox.