Intel chief commits to doubled profit, revenue growth
Chipzilla is dead. Long live 'The Continuum'
---
Intel will double its revenue and earnings growth rates over the next few years, and ship a billion microprocessors per year within the next five.
These were just a pair of the bullish forecasts that Intel CEO Paul Otellini unloaded on a group of reporters and moneymen on Tuesday morning at the company's annual Investor Meeting at its California headquarters.
Otellini also implied that it's time to retire Intel's 'Chipzilla' sobriquet. "Don't think of us as a chip company anymore," he advised. "We're a computing company."
But if you think "chipmaker" when you think "Intel", Otellini understands. He just thinks you're behind the times. "If you circle back to 2000, we were sort of just a chip company," he said. "The principal activity of the company was designing and shipping microprocessors and chipsets around them - a silicon-based company."
But that has changed, Otellini says, and he'd now prefer that you think of Intel as a company that's "building a 'computing continuum' around Intel architecture". The reason for the change in self-description is simple. "Over the years we've added a number of things, and if you look at Intel today, we've got platforms, software, and services increasingly being added onto the silicon capabilities of the company."
Intel's foray into platforms began in 2003 with Centrino. Then came vPro and WiMAX, joined more recently by Wireless Display PC-to-TV technology, more cutely known as WiDi - which, of course, rhymes with Wi-Fi.
Intel's software efforts, Otellini said, not only involve acquisitions such as such as Virtutech, RapidMind, and Neoptica, but also cooperative ventures such as MeeGo, plus homegrown Intel dev-support efforts such as Visual Adrenaline for game developers and the more general Intel Software Network.
Speaking of acquisitions, Otellini classed the Wind River pick-up as being an example of Intel's move into the services arena, citing that company's "go-to-market service for hire," aimed at companies who want to create embedded applications and interfaces for handheld devices, for example.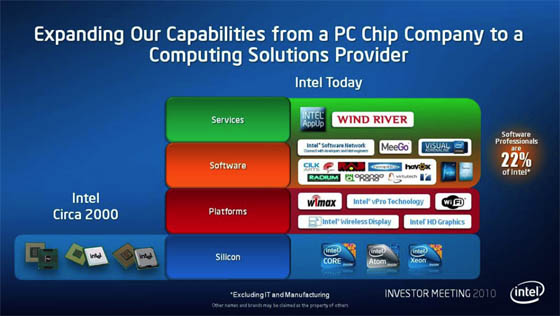 Formerly a chip company, now a 'computing continuum'
"Everything we're doing in these areas is being looked at in terms of what value can Intel provide to our customers and/or the end users in the software and services arena that we get paid for," Otellini explained to the assembled moneymen. And then he told them exactly what they wanted to hear - that the expansion into platform, software, and services hasn't merely been in support of Intel's silicon profit center. "This is not a pro bono activity just to get silicon designs. We want to get paid for this. And we intend to get paid."
Not that the transformation to a "computing continuum" is a walk in the park. "It's a lot of work to do this. To transform an industry, it's not just [building] a chip anymore, you have to have all of the layers." Ah, but there are also competitive benefits. "Anyone who want to compete with us has to have all the layers, as well. It's not just a silicon play anymore."
But the foundation for all these new revenue streams remains silicon - and Otellini plans on shipping a boatload of chips. "I think if we execute on these plans we will be shipping a billion Intel-based microprocessors a year within five years," he told his audience.
"Much of that will come from what we know as the growth in the PC industry, much of it will come from gadgets around the PC industry, and much of it will come from making all these new devices smarter."
One new device that Otellini sees as a growth driver is what he called "smart television". After noting the strong projected growth in internet-enabled television, which he believes will be a major component of the growth in online video, Otellini used a smart TV as an example of the silicon, platform, software, and services quartet that makes up his "continuum".
A smart TV, for example, could include Atom-based silicon, a platform enabled by Intel's MediaPlay drivers, and the Meego OS running the tru2way two-way interactive television service, and it could offer downloads from Intel's AppUp online software-store service. And Intel will find a way to take a profitable cut at each level of the stack.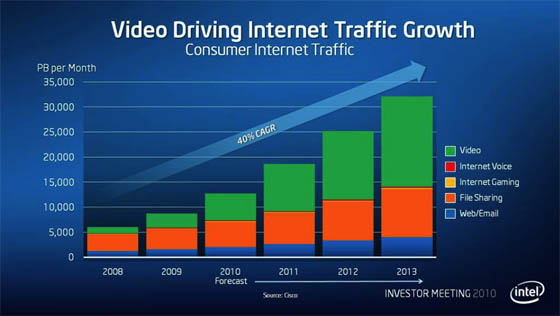 Intel sees plenty good money to be made in the growth of internet video
Adding to that data-center revenue, Otellini sees serious profits ahead: "We'll have revenue streams from servers, data centers - network devices, storage devices - and revenue and profit streams from software and services. It's a different view of the company than you've seen the past 10 to 12 years."
He's so bullish on this "continuum" that he sees a rapid and sharp increase in Intel's compound annual growth rates, or CAGR. "We expect the revenue CAGR and the EPS [earnings per share] CAGR to be in the low double-digit growth rates. To give you some perspective, the EPS CAGR in the last five years has been about half that. So we're essentially committing - forecasting - to double the growth rate of earnings and double-digit growth rate on revenue for the company as a result of these initiatives."
When will this doubling happen? "Over the next few years," said Otellini. "We're taking it up quite a bit."
Of course, when speaking to a room full of investors, a CEO should position himself as bullish - but he also has to be careful not to promise too much, or his optimism will come back to bite him.
But Otellini wasn't talking caution. "We're on top of a growth engine, and we intend to deliver," he said. "We're lean, we're efficient, we're highly profitable, and we're going to stay that way."
Otellini's vision of a value-added, money-making "continuum" is in marked contrast to the company's Chipzilla-only days, Otellini said. "It's the single best opportunity in front of us versus being a commodity vendor of licensed architectures. We were there. We tried that. Been there. Done that. It's very difficult to make money in that way." ®
Bootnote
As confident as Otellini was during his talk to investors, he was also careful to back away from the edge. When one moneyman asked him for a breakdown of how different parts of the company would contribute to the doubling of revenue and profit growth, he said. "We went as far out on a limb as we've ever gone - that's as far as I'm going right now."