This article is more than 1 year old
'Phantom Ray' robot stealth jet rolls out
Will offer the 'spectre of security'. Really?
US arms'n'aerospace goliath Boeing yesterday held a public unveiling of its "Phantom Ray" jet-fighter sized robot stealth plane. The firm has no customer for the Phantom Ray, which is intended to fly by the end of the year, but evidently Boeing executives consider that it would be fatal to be left behind in the military robojet race.
The Phantom Ray, which has been previously mentioned by Boeing, is a product of the giant corporation's advanced-projects division, the so-called "Phantom Works".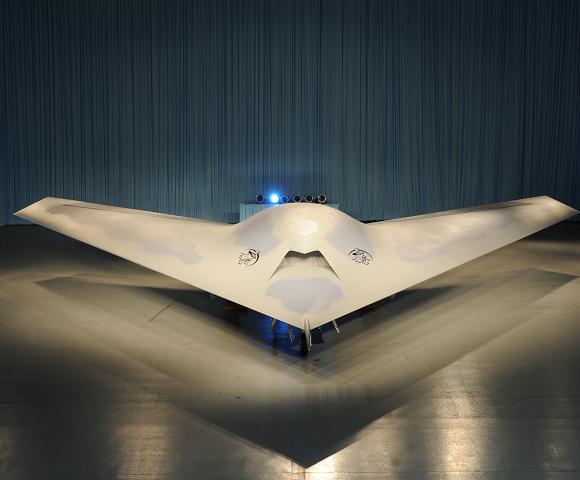 Meet me in St Louis
"We're really excited about this because Phantom Works is back as a rapid prototyping house, operation and organization," said Craig Brown, Boeing Phantom Ray program manager. "This is the first of what I expect to be many exciting prototypes, and they're all with exciting technology."
Boeing seem to be taking a leaf out of hated rival General Atomics' book with the Phantom Ray. GA has built the successful Predator and Reaper robot aircraft without any clearly identified government customer to begin with, but then sold large numbers of them owing to being (at the time) the only firm with products ready to deliver when the need appeared.
It would be more normal in the defence/aerospace world to wait for some branch of the US forces or the CIA to state a requirement and bid for development funds, and as an established major player that has mainly been what Boeing has done. But it's widely felt that there may never be another manned combat jet after the F-35, now in flight test, and that the next big thing could be full-sized, stealthy robot warplanes - larger, faster and more heavily armed than the relatively basic propellor-driven Predator and Reaper.
GA has its new "Avenger" in contention: Northrop has managed to get a more traditional deal out of the US Navy to make its X-47B robot carrier jet. Boeing, not to be left out, will now bring out its Phantom Ray.
"For the first time in a long time, we are spending our own money on designing, building and flying near-operational prototypes. We're spending that money to leverage the decades of experience we have in unmanned systems," says the chief Phantom, Darryl Davis.
One might note, however, that Boeing has not been required to bear all the costs of developing the Phantom Ray. The firm candidly admits that the new machine is based on the X-45 prototype originally developed with funding from the US Navy, Air Force and Pentagon crazytech shop DARPA.
In the end the X-45 was axed following lukewarm interest from the air force, though it is thought in some circles that the light-blue airmen continue working on a stealth robojet within the "black" world - one too large to fit on a carrier deck, hence the split with the Navy and the end of X-45.
Nonetheless, General Atomics plainly considers that the US forces will want a fighter-size robojet other than Northrop's X-47 in the near future, even if they aren't willing to front any development cash: and it's now plain that Boeing agrees with this view.
Others, of course, would argue that the US and its Western allies already have far more and far more sophisticated air power than they actually need, and that in fact a long break before the next generation of aerial killware might be in order. Still others might be sceptical about the willingness of senior military officers who mostly came up as pilots to spend big money making their beloved way of life obsolete.
From Britain, Boeing and GA's willingness to at least spend their own money on developing the new robojets looks attractive. British taxpayers are in the process of shelling out large sums on our own not dissimilar "Taranis" prototype. The British forces' desire for such a thing is entirely unsubstantiated: but of BAE Systems' desire to build it there can be no doubt.
Going back to the Phantom Ray, it's difficult to congratulate the Boeing flacks on their language. They insist that the machine will not, in fact, provide any actual national security benefit, but rather the pale ghost of such: specifically a "specter of security". ®