Bill Gates chucks cash at climate cooling cloud creator
$7bn nautical chill pills
---
Boffins want to curb climate change by building a $7bn fleet of 1,900 ships to crisscross the oceans as each sucks up ten tons of seawater per second and blasts it a kilometer into the sky to create clouds to absorb sunlight and cool the earth.
And Bill Gates is funding them. No, really.
The Times Online reports that a San Francisco research group with the cloudy name of Silver Lining has received $300,000 from the billionaire mosquito terrorist and tiny-nuke pusher to fund research into the aforementioned geoengineering project.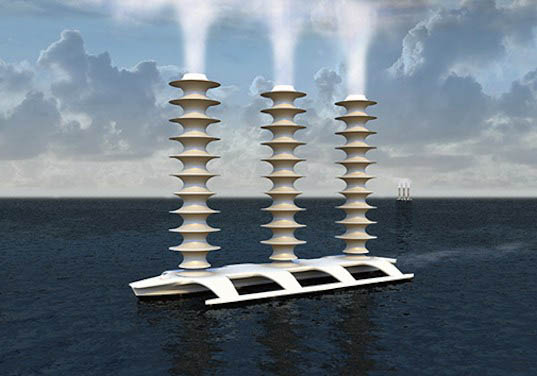 Sailing over a school of sardines is not recommended (source: Inhabitat)
The Times notes that the US and UK scientists involved in the project witnessed the wimpiness of climate change–fighting agreements (or lack of same) coming out of last year's Copenhagen conference, and decided that it'd be global seppuku to wait for international action.
So they're going it alone: Ships + pumps = gushers. Gushers + clouds = cover. Cover = cooling.
Well, actually not merely clouds, but clouds that have been made more reflective due to the insertion of squillions of microscopic water droplets, says principal researcher Armand Neukermanns. According to his analysis, this geoengineering idea is "the most benign" because its effects could be easily reversed, unlike other ideas such as, say, salting the upper atmosphere with reflective sulfate particles.
The first test of this theory will involve ten ships scuttling around 3,800mi2 of ocean. According to the Times, however, to get the whole scheme up and contributing effectively to ratcheting down the earth's fever, the fleet would need to be 1,900-ships strong.
Neukermanns didn't mention whether the ships would be diesel-powered. ®