In February Sony declared it was developing a compact camera line with interchangeable lenses, and now the company has revealed it will go on sale next month as the Alpha Nex.
The Nex-3 and Nex-5 sport DSLR-quality 23.4 x 15.6mm, 14.2Mp APS image sensors. But the cameras lack a mirror system, so they're rather smaller than your average digital SLR: 117 x 63 x 33mm in the case of the Nex-3, the (slightly) larger of the two.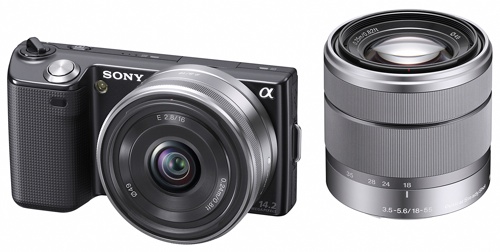 Sony's Alpha Nex: a compact a DLSR sensor
Sony will have a 18-55mm zoom lens and a 16mm 'pancake' lens available to clip onto the Nex, and there will be an adaptor for existing Alpha lenses.
Both cameras feature 3in, 921,000-dot LCD screens mounted on a horizontal pivot so they can be angled up or down. There's no optical viewfinder, but Sony will offer one as a plug-on optional extra. The cameras do come with a "super-compact" clip-on flash.
The Nex-3 shoots 720p video, but the Nex-5 can reach 1080i. Both record in AVCHD format and can transmit content to a telly through an HDMI port. Pictures and video can be stored on SD, SDHC and SDXC cards and a variety of MemorySticks.
As we say, both Alpha Nex models will be available in June, but Sony has yet to reveal the prices of cameras or lenses. ®